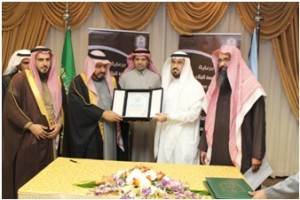 An agreement of cooperation to support awareness programs that inspire a spirit of volunteerism and community service among students was signed Feb. 5 between King Saud University's Riyadh Community College (RCC) and the Sheikh Saad Al-Musa & Sheikh Abdulaziz Al-Musa Endowment.
The signing was conducted in the University's VIP Lounge, and was attended by the vice rector of KSU educational and academic affairs, Dr. Abdullah S. Al-Salman, RCC director of student activities professor Saad Bejad Alotaibi, RCC Dean Abdulaziz A. Al-Khedhairy, Sheikh Abdurahman Bin Saad Musa, and Musa Endowment executive director Sultan Aldwych.
Before the signing, RCC's Alotaibi welcomed representatives from the Mousa Endowment and KSU, followed by Dean Al-Khedhairy's introduction of Students' Forum for Volunteer Action and Community Service members.
Al-Khedhairy described the Students Forum's objectives and activities including its training days, workshops and field trips and assured the endowment officials that the present project was in harmony with their objectives.
He completed his remarks by invoking God's blessings and peace for the late Sheikh Abdulaziz Al-Musa, one of the endowment's benefactors.
Sultan Aldwych followed with a presentation about the endowment, highlighting its vision, strategy and mission and described some of the other major projects the Musa Endowment has funded.
KSU vice rector Al-Salman completed the ceremonial portion of the program by thanking the Musa Endowment for its initiative in supporting a program that he said he believes will nurture a sense of commitment among KSU students to develop societal partnerships that will effectively serve the Kingdom.
The agreement was then signed and the Musa representatives received a ceremonial shield for the endowment's past benevolence and its most recent contribution to KSU, RCC, and the Kingdom.
The Sheikh Saad Al-Musa & Sheikh Abdulaziz Al-Musa Endowment was founded in 2010 and has assisted worthy projects such as the development of water desalination plants, the Academy of the New Muslim, providing material needs to married couples, a water supply network, a prayer home for travellers, and Holy Quran computer software.
Related News