Teachers from across Saud Arabia, and the world, attended a KSU forum this week to discuss teaching methods and how to ensure students get the most out of their classes.
Entitled "We Teach, but do the Students Learn?", this latest gathering is the second forum this year on the subject, organized by the Deanship of Skills Development and hosted by KSU Rector  Badran Al-Omar on behalf of the minister of higher education.
Attendees included faculty from a variety of educational institutions in the Kingdom including public and private universities, military colleges, Hadramout University of Science and Technology, and Imam Muhammad ibn Saud Islamic University.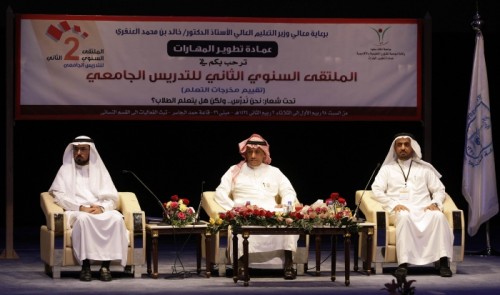 In opening the forum, Rector Al-Omar emphasized the need to promote education and the dedication of the Ministry of Higher Education in supporting the education sector.
But, he said, universities needed to rise to meet the expectations of the ministry, and the nation, in the delivery of teaching objectives with the forum acting to help to ensure this.
KSU's dean of Deanship of Skills Development, Dr. Abdulaziz Al-Othman, outlined the forum would last four days and include 17 specialized lectures for assessing learning and teaching, as well as 13 workshops.
The forum aims to train participants in the best practices for evaluating students with internationally recognised staff from the USA, Canada and New Zealand, as well as from within the Kingdom, assisting in this training.
Lectures were given at the Olaysha and Al-Malaz women's campuses, and in the health colleges, with all English lectures immediately translated to Arabic.
Experts also reviewed the 'e-accomplishments' log for students, used to register their academic and research achievements.
Dean Al-Othman told assembled guests the forum aimed to encourage creativity.
"Our need for the creativity of the faculty members in university teaching equals or surpasses our need to chose the best means of evaluating acquired knowledge and skills," he said.
"The Forum will satisfy the questions of faculty members about how much of the curricula the students learn and what means are to be used for best outcome of university education."
The forum ran from Saturday Feb. 9 until Tuesday 12 with over 640 people in attendance. 
Related News