The science of the mind has become the latest topic tackled by the King Saud University(KSU) reading club with author and psychiatrist, Dr. Yasser Abdul Karim Bakkar, speaking to students.
Dr. Bakkar, author of "The Power is in Your Hands", addressed about 20 students on Thursday Feb. 14 on the topic of 'emotional intelligence' and the physical and psychological causes and impacts of mental illness.
The discussion focused on the common errors in daily life that disturb emotional balance, making it difficult to achieve emotional intelligence, and how leading a more balanced life can lead to positive effects on your physical health and emotional well being.
Dr. Bakkar explained the relationship between emotional intelligence, bodily functions, and how these relate to several pathological diseases.
Students asked probing questions relating to the origins of  mental illnesses, was to address these illnesses and whether Arabs had a unique experience in struggling with emotion or if people across the world have similar problems.
A separate female discussion with 20 students focused on the importance of deepening the dialogue with one's self, highlighting the most positive thoughts to maintain emotional intelligence, and the importance of  discipline to maintain a healthy inner balance.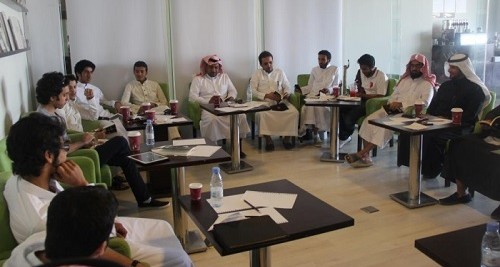 The next debate will be Thursday March 14  to discuss the book "Islam, between East and West" by former Bosnian President, Alija Izetbegovic.
Related News