More than a dozen recommendations were made to improve Quranic studies programs worldwide during the recent International Conference for the Development of Quranic Studies.
The conference, organized by King Saud University's Department of Quranic Studies in cooperation with the Tafsir Center for Quranic Studies, was held in Riyadh earlier this month.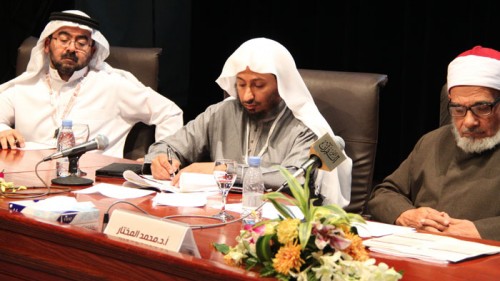 More than 400 researchers from more than 30 countries discussed the development of Quranic studies programs in six areas: scientific, educational, technical, medical, marketing and finance.
Dr. Abdulrahman Al-Shehri, supervisor of KSU's Quranic Studies Department and chairman of the conference's organizing committee, said the recommendations included providing support for students studying the Quran, allowing them to attend and participate in scientific conferences; and establishing criteria for accepting Quranic studies students in universities.
There were also calls for Quranic institutes to cooperate with the Tafsir Center in developing an encyclopedia of Quranic scientific terminology and helping reduce the spread of untruths about the Holy Quran; and asking KSU's Quranic Studies Department to develop undergraduate and graduate programs in Quranic studies for other Islamic universities.
Other recommendations included establishing channels with universities in non-Islamic countries where curricula related to Quranic studies are taught to exploit the expertise of Quranic centers in the Islamic world; form an international league of Quranic institutions, led by the Tafsir Center; and support the Imam Shatibi Institute's data bank project, which will aid Quranic researchers.
KSU's Research Chair of the Holy Quran and its Science was established in November 2011. One month later, the Chair and the Tafsir Center signed an agreement of cooperation.
The Tafsir Center first met in February 2012.
Related News