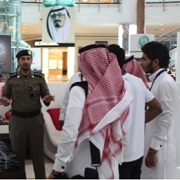 Road safety has been on the agenda for students from the Riyadh Community College (RCC) with a trip to the Gulf Traffic Management Week Exhibition which aims to educated people about the dangers of car accidents.
Students explored the road safety procedures followed by the Traffic Management Department at the exhibition at the historic King Abdulaziz Center in a effort to make roads safer and more efficient.
His Excellency, Lieutenant Colonel Khalid abu Hamid, received the students and gave them traffic safety instructions to show them how to be safer drivers.
Related News