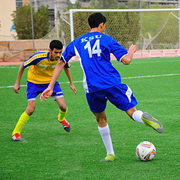 King Saud University's football stars are sure that despite a draw in one of their recent games they are still the going to make it through to the university finals and have a good chance at being this seasons champions.
In the run up to their most recent match KSU managed to win its matches against their rival the Imam Muhammad Ibn Saud Islamic University and make it to the fourth round but in their last match the team underperformed, only managing to go away with a two all draw.
This result has been blamed on the players relaxing after their successful matches but players and pundits say then can, and will have to, performing better in the coming series of much harder finals.
During the game against the Imam University goals were scored by Abdulaziz Al-Haqbani, who shot from outside the penalty area, with the second goal landed in the net by Osama Al-Hamid.
The next matches will be harder for the team as they face more challenging opponents  and the games are more important as the winner of this series will make it to the final round.
Manager Mohamad Al-Shehri said the team now is now at its best with this year's performances some of the best he has seen. Al-Shari said he thinks KSU has a good chance of becoming champions.
Related News