King Saud University's reading club looked at Islam's position at the cross roads between east and west during its sixth meeting of the year last month.
The club discussed "Islam Between East and West" by Alija Izetbegovic, a prominent political thinker, activist, and lawyer, as well as the first president of Bosnia and Herzegovina,
In the book, Izetbegovic examines the concept of culture and civilization, as well as arts and ethics and their differences in Western and Islamic structures.
"Islam Between East and West" is regarded as Izetbegovic's masterpiece, and in it he argues that Islam is the only "…synthesis capable of unifying mankind's essentially dualistic existence."
Izetbegovic also addresses Western and Islamic thoughts on creationism and evolution via a philosophically complex system of critique, and attempts to highlight the universality of Islam.
Students met to confer on the book in Mochachino Café, managed under Majid's Al-Shihri, where biographical information was provided about the writer, and the influences on his life choices and achievements was discussed.
Izetbegovic's theme of dualism in humanity, as well as the struggle between creationism versus evolution prompted a very interesting discussion among the students.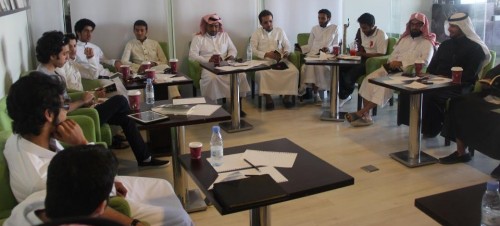 Several ideas from the book were addressed including flaws that detract from Darwin's theory of human evolution, as well as reasons behind the absence or lack of exceptional people in our present time.
Art and its relationship to society and religion was also a featured discussion point, as was the validity of the prohibition of certain types of art in conservative Islamic society.
Female KSU students involved in the Book Club gathered at Prince Salman Central Library, with Hanan Al-Arini managing the meeting.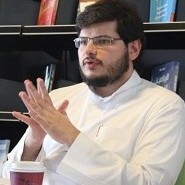 Their discussion began by focusing on important elements that contribute to building a great civilization, using a quotation from the author "culture is the influence of religion on the human, while civilization is the effect of intelligence on the nature or the outside world, therefore, human is the culture holder and society is the bearer of civilization."
The cultivation of a culture of creativity invited further commentary by one attendee who quoted the writer's opinion "that any tampering with people even for their benefits is considered to be an inhumane act."
She went on to emphasize the need to progress the relationship between freedom and creativity in developing communities and building a more productive nation.
Additionally, one of the points that was discussed for a great amount of time was the potential and great power and importance of art in progressing any civilization, using the author's reference to the degradation of art and literature and society's detriment in atheistic Communism rule.
The group discussions ended with notes of gratitude to the organizers of the events and an announcement of the next book club meeting, which is schedule for April 11, where Dr. Abdul Karim Bakar's book "Thinker Configuration" will be discussed.
Related News