The Speech and Hearing Club at King Saud University premiered its new film 'My will is My Power,' early this month on April 7th.
KSU's vice president for academic and educational affairs, Abdullah S. Al-Salman was an integral part of the inauguration ceremony for the film.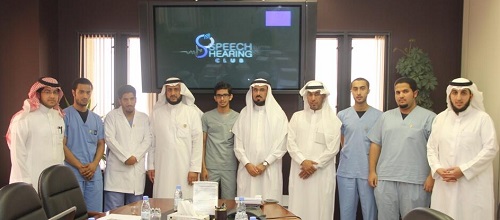 The film attempts to raise awareness of the difficulties faced by individuals in Saudi society with hearing and speech impediments, and tries to help remove misconceptions people have about such groups.
Students from the  Speech and Hearing Club met with Al-Salman as well as the supervisor of the Student Affairs Deanship, Abdulrahman Abdullah Alatar, the head of the Rehabilitation Science Department, Dr. Abdulaziz Alsheiban, as well as professor Amar Al-Mokadi, head of Student Clubs Management for a quick presentation.
The students introduced the audience to the club's history, most prominent activities, research and volunteer work, and their fundamental desire to help people learn and understand something new regarding individuals with speech and hearing impediments.
The event provided KSU with an opportunity to work as an integrated organization to provide an optimum environment for university students.
The supervisor of the Club, Abdulhakim Al-Muamar said that such work reinforces trust in students due to the support they receive from the University's administration.
This is the first of a series of four films the Club for Hearing and Speech Disorders plans to produce.
The movie can be viewed here: http://youtube/Nz6R0fC9BRg
Related News