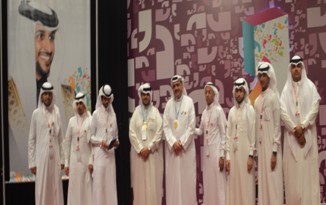 A representative King Saud University student delegation has participated in the second Gulf University Forum held earlier this month in Manama, Bahrain.
Sponsored by His Highness Sheikh Nasser Bin Hamad Al Khalifa of Bahrain, the forum titled "From University Halls to the Work Place" was held April 9-11 and represented a forward-thinking cooperative future for the region.
The gulf university forum highlighted the importance of specialized education in meeting the needs of the regional job market and overall development.
The goal of the convention was to prepare students in the GCC for the rapid changes of today's world and emphasise regional cooperation by sharing information to ensure students entering the work force are well prepared.
Many of the students from KSU were actively involved in various sections of the forum.
Their participation characterized the diversity of interests at KSU and ranged from political, economic, social, and media fields.
At the end of the forum the Dean of Student Affairs, Fahad Hamad Al-Qurainy, thanked the University of Bahrain for inviting KSU and hosting such an inspiring event for the region.
Related News