KSU is set to host more students studying medicine in the future with students and officials turning out to inaugurate the new induction program for health specialities.
The program is set to operate alongside the Preparatory Year (PY) 'Track Program' and 'Future Program', both of which work with the University's agency for health specialities.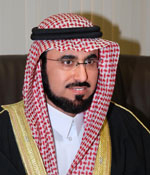 During the launch of the program on April 18,  the vice rector of educational and academic affairs at KSU, Abdullah Salman Al-Salman, pointed out the opportunities the program will bring to students.
The program, said vice Rector Al-Salman, would help prepare graduates for the job market in Saudi Arabia where professionals in all fields of health are in great demand.
There was also discussion of the PY and admissions in the light of the increase in places within the PY and the coming summer semester.
Professor Mohammed bin Yahya al-Shahry gave a lecture on how a student can choose their major, which was televised to female students at the Olaysha Center for Girls.
In Olaysha female students were also involved in activities to introduce the new health facilities for the female students, which was also introducing them to the health faculties and specialities.
The dean of Female Center for Scientific and Medical Colleges, Dr. Einas Al-Eisa, gave a talk focused on the importance of choosing a major which is of interest to students so they can be creative and distinguished in it.
This was followed by an open meeting between the under secretaries of the health faculties at both campuses, where they answered students questions.
Related News