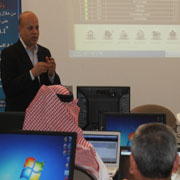 Sponsored by the Dean of the College of Sport Science & Physical Activity, Prof.  Khalid S. Almuzaini, the events and activities of the training workshop kicked off on Tuesday and Wednesday, 23-24 April. The workshop is aimed to improve the education curriculums and content of the Learning Management System (Blackboard). This will be done within the framework of a series of workshops held by the Deanship of e-Learning and Distance Education in cooperation with the Deanship of skills development in the colleges of King Saud University to raise the educational content on the Learning Management System (LMS).
The workshop was attended by Their Excellencies, the faculty's under secretaries, heads of academic departments and the faculty members at the faculty. It is worth mentioning that His Excellency then gave a speech thanking the faculty's Agency for Development and Quality for organizing and managing these events, wishing that the media efforts would be intensified so that the workshop can achieve its desired goals. He also commended the large turnout of faculty members and their eagerness to keep abreast of developments in the creative teaching strategies.

It is also worth noting that the training workshops were temporarily held in the computer laboratory at the headquarters of the faculty, which is next to the air dome, where Dr. Ahmed Omar, Prof. Mohammed Anee and PRo. Mohamed al-Makati, handed out the training guide to the trainees, which significantly contributed to their perception and knowledge of the simple and easy-to-use new version of the Learning Management System (LMS). Moreover, the attendance rate for the workshop exceed 82 percent of all of the faculty members at the College of Sport Science & Physical Activity.
Related News