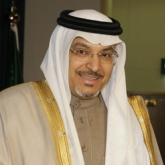 Representatives of the National Guard of Saudi Arabia have visited King Saud University as part of an imitative to strengthen the relationship between the university and the military.
The Commander of Command and Staff College, Lieutenant General Ahmed bin Saeed Al Mufreh visited KSU with a view to developing educational programs with the college.
Meeting with the delegation Vice Rector for Business Development at KSU,  Mohammed Al-Sudairy, thanked them for their initiative and stressed the fact that the university dedicates itself to working with institutions in civil society and the military.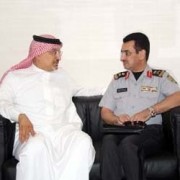 Head of the visiting delegation, Lt. Gen. Ahmed bin Saeed Al Mufreh, said he was interested in raising the level of education among National Guard officers.
"We also have an interest to benefit from the expertise of the college and get a close-up look at its developmental and educational programs to achieve the desired goals,"  Lt. Gen. Al Mufreh said.
"We are also keen on creating a partnership with the university and form a constructive cooperation in the educational fields."
Dean of the King Abdullah Institute for Research and Consulting Studies (KAI-RCS), Mohammad Abdulaziz Al Dughaishem, stressed the institutes keenness and interest in expanding the cooperation with all military.
"We will continue to activate our partnerships and build new partnerships with our military institutions, which we are proud to serve and support in all its projects,"  Dr. Al Dughaishem said.
The visiting delegation also met with a number of deans and the representatives of colleges and faculties, where they discussed educational and developmental programs.
Related News