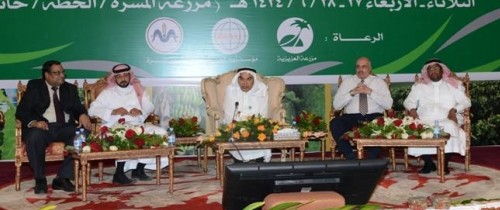 King Saud University's Chair of Date Palm Research (CDPR) has been one of the guests of honour during the Saudi Society for Agricultural Sciences' Seventh Conference on the Al-Masra farm in Al-Kheta in the Provence of Hail.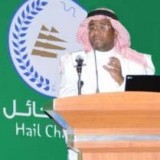 Held from Tuesday May 7 until Wednesday May 9 on the farm, owned by Sheikh Ali bin Mohammed Al-Gami'a, the Supervisor of the Chair, Prof. Saleh A. Aldosari, spoke about methods to control Red Palm Weevil to improve productivity in trees.
Important field research results, which the Chair has done over the past few years about the Red Palm Weevil, was relieved to guests at the conference as well as the findings of experiments in the governorate of Al-Kharj.
As well as these results professor of the chair, Professor P.S.P.V. Vidyasagar, gave a lecture detailing the university's experiments with pheromone traps to reduce Palm Weevil numbers naturally.
During the conclusion of ceremonies Professor Aldosari, received an invitation from the Commerce Chamber in Ha'il, to give a number of awareness lectures in the Hail to help contribute to the reduction of Red Palm Weevil infestation.
Professor Aldosari accepted the invitation and the lectures are set to be scheduled.
Related News