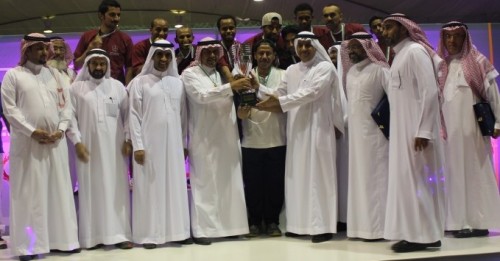 King Saud University's Deanship of the Faculty Members and Staff Affairs has won the  Associates Soccer Quintets championship and been crowned 2013 champions in a ceremony at the university.
Rector of the King Saud University, Badran Al-Omar, presented the tournament's cup on Monday May 13 at the indoors sports halls, following the team's win against rival team, the University's Agency for Projects.
The Faculty Members team won thanks to a last minute goal during a penalty shoot-out, brought on by a 3-3 draw in their original match.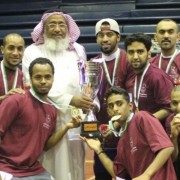 Dean of Faculty Members and Staff Affairs, Saad Al-Hussein, praised the prominent role played by the faculty members on the team, in terms of preparation and training.
Riyad Al-Ghalyan, the supervisor of the deanship's sports teams, expressed how happy and pleased he was that the deanship had won but he also stressed the importance of the university's basketball tournament, which takes place towards mid-May.
The Deanship of Faculty members and Staff Affairs team is made up of Zain Zerbtan, Fares Zerbtan, Mohammed al-Samiri, Fares Al-Buqami, Abdul Malik al-Fadl, Faisal Al-Dosari, Hamad Al-Dosari, Khaled Faihan, Hassan Eissa, Moayad al-Hamid, and Walid al-Ganoubi.
Related News