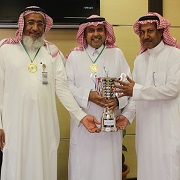 The Deanship of Faculty Members and Personnel Affairs at King Saud University took home the first place trophy of the Associates Basketball Championship game earlier this month.
The game was held at the Indoors Sports Hall where the team won the title after winning two decisive games against teams from the Deanship of the Preparatory Year and the College of Sports Science and Physical Activity.
This is the team's second sporting achievement this year, after winning the first place trophy of the Associates Soccer Championship.
The dean of Faculty Members and Staff Affairs, Saad Al-Hussein, expressed his happiness and congratulated the team for winning the basketball championship.
Al-Hussein went on to praise the team's constructive engagement during the game, which was critical in helping them to win the trophy, saying it was "a good sign" and demonstrated "their willingness and desire to win."
The supervisor of the Faculty Members and Staff Affairs' sports teams, and the captain of the Deanship's basketball team, Riyad Al-Ghalyan, also expressed happiness and delight at the Deanship winning the cup for the 2013 Basketball Associates Tournament.
Al-Ghalayan also praised the huge efforts of the entire team and the great heights reached by the players during the last two consecutive matches, leading to their win.
Related News