King Saud University hosted an event in celebration of the conclusion of faculty member instruction on e-learning and information technology systems.
The event was held at Di'riya Hall and in attendance was vice rector of Development and Quality, Fahad M. Alkolibi, the dean E-Learning and Distant Learning, Abdulaziz Alsadhan, as well as numerous other faculty members of the Deanship.
Alkolibi said that KSU's e-learning and information technology divisions have contributed enormously in providing excellent support for faculty members.
He also highlighted the useful training programs offered by Deanship of E-learning and Distance learning, such as systems management, virtual classrooms, and development of digital content, all of which contributed to improving the educational environment at the university.
There are a total of 20 units of faculty training focusing on products and programs the Deanship offers, serving more than 70% of the university's nearly 4,000 faculty members.
Alkolibi also stressed the importance of the continued development of e-learning applications at KSU.
Increasing excellent performance and achievements at the university is all linked with the staying abreast with technological development, Alkolibi stated.
Alkolibi also thanked the Rector for his continued support for the programs at the deanship, which help foster a learning environment that contributes to progressive ideals.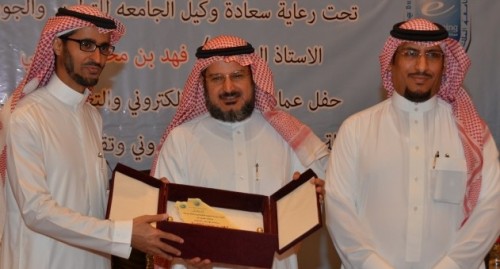 "We at the Deanship are proud that we have contributed, even a fraction, to this university wide technological update and helped with making education more comprehensive," said Alkolibi, "especially in the preparation and establishment and development of infrastructure to the environment of e-learning at the university."
For his part, the chairman of University E-Learning for Quality and Development, Sultan Al-Mutairi said the initiative to establish units of e-learning and information technology is the first of its kind in the Middle East, displaying KSU's constant ambition to be at the forefront of technology.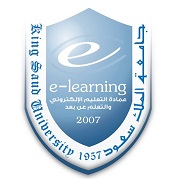 Head of the Medical Informatics and e-Learning Unit, Dr. Amr Jamal, said the "focus of education in general and e-learning in particular is a student himself, but the most important pillar in the application of e-learning is a member of the faculty, the more the teacher takes the initiatives and is eager to invest his time and effort to learning and applying those skills then in turn the students' studying is more enjoyable."
Jamal noted the KSU offers a wide range of products while also hastening innovation of modern e-learning services, a rarity in educational institution, where the focus is usually on one or the other.
Jamal also said in his speech that the faculty has not finished the project on e-learning service website and that there are numerous other design updates pertaining to the faculty's activities.
The ceremony concluded by honoring faculty members from the Deanship of e-Learning and Distance Learning and the officials responsible for running e-learning and information technology units this past academic year.
Related News