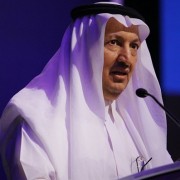 King Saud University's vice rector, Abdulaziz Al-Ruwais, launched a PhD preparatory workshop on Sunday morning.
The workshop entitled, "PhD Preparation in the Special Education Field" was organized by the Department of Special Education in the College of Education.
The workshop aims to help PhD candidates adequately prepare for their time intensively studying and preparing material, and provides them with support and access to services.
Al-Ruwais said in his speech that the workshop operates within KSU's framework of support and accessibility and he specially came to the workshop to "learn first hand about the activities at the Faculty of Education."
Al-Ruwais also said that he is "aware of KSU's ability to produce strong graduates," and highlighted how competent the University is in creating strong supportive programs for their students, such as this workshop.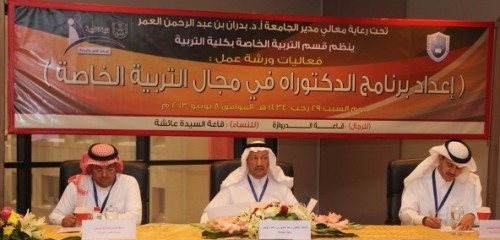 The dean of Education College, Tarek Al-Rayes, also gave a speech where he thanked KSU and the patronage of Rector Badran Al-Omar.
Al-Rayes also said that such preparatory programs were long overdue, but indicated a qualitative shift in Saudi Arabia.
"Although the program is 30 years overdue, the involvements from colleagues, deans, and a number of individuals from the ministry of education leading to eventual creation of this workshop indicates a fundamental change in approach to education," said Al-Rayes.
There is a plan to continue a preparatory program for PhD students in the 2013-2014 academic year.
Al-Rayes concluded his speech by thanking the Rector of KSU and the officials in aiding in the development of the programs in the university.
Related News