The first group of Royal Saudi Air Force trainees was received at the Prince Sultan Institute for Research on Advanced Technologies (PSATRI) on Saturday, June 8, as part of the hands-on summer laboratory training offered at the Institute
A number of PSATRI faculty, including the executive director of the Institute, Sami Alhumaidi, professor Saleh A. Alshebeili, a PSATRI board member, and Gram Allah Al-Ghamidi, supervisor of the center of technical innovation in radio photonics.
Alhumaidi's welcoming speech emphasized the importance of hands-on experiences in preparation as an engineer and how critical practical application of their knowledge is as part of their education.
The Institute provides the latest modern scientific techniques and latest equipment in the field of aviation ensuring their training is up to date and comprehensive.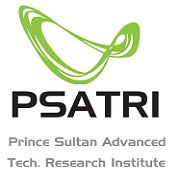 The Institute also provides advisory services to ensure full preparations in tests and field trials
Scientific and professional training is also provided, which is in line with the vision of the Institute to become a national leader for research and technological development in the defense and national security sector.
Alhumaidi mentioned the role of the Institute in assisting in the transfer of technology, and in building a bridge between the academic world and industrial sector.
He also spoke about the role of research provided and supported by King Saud University, which contributes to the implementation of the programs at the Institute.
Related News