King Saud University's Rector received a delegation of Bosnian university directors earlier this week at the start of a visit aimed at developing higher education ties between the Kingdom of Saudi Arabia and Bosnia.
Rector Badran Al-Omar received the Bosnian delegation at KSU's preparatory year facilities, in the presence of KSU representatives and the PY dean.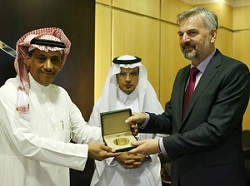 During the reception, the two groups discussed a number of issues related to higher education in the two countries before the Bosnian delegation was taken on a tour of PY facilities, including student clubs, gyms, the library, and facilities for the visually impaired.
The visit is part of a joint cooperation between Saudi and Bosnian universities to discuss the academic and scientific fields and exchanging visits between students and faculty members.
Related News