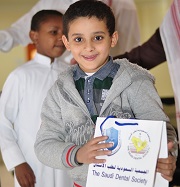 Dentistry interns from King Saud University participated in a awareness program late last month for school students organised by the Saudi Dental Society and the Al-Rahmaniah Cultural Center in Al-Ghat.
The program, held on November 27th, saw the participation of primary and middle school students and focused on raising awareness of dental hygiene and health.
Students from a number of schools participated in the day, while the KSU interns gave presentations on dental health and distributed toothbrushes and toothpaste.
Al-Ghat is a small town in Riyadh Province, Saudi Arabia, located about 25 kilometres northwest of Riyadh.