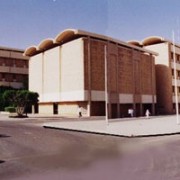 The Department of Orthopaedics has launched a fellowship program in laparoscopic surgery and sports injuries at King Saud University's College of Medicine.
Program supervisor, Dr. Abdulaziz Omar, said that the duration of the new, specialised program will be two years.
The fellowship program will be open to a maximum of two applicants per year, who should already be certified orthopaedic surgeons.
Dr. Omar also revealed that King Khalid University Hospital's highly specialised medical team currently handles more than 600 sporting injury cases each year.
Applications for the new fellowship program can be submitted directly via email to orthokkuh@yahoo.com, via fax to 4679436-011, or to the following address:
King Saud University
College of Medicine
King Khalid University Hospital
Department of Orthopedics
PO Box 7805 - Riyadh 11472
Phone: 4670871-011
Note: Submissions close on December 15, 2013, and successful applicants will be contacted for personal interview dates.