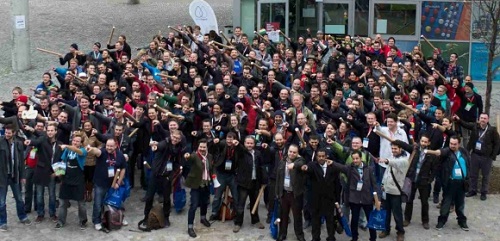 A delegation from King Saud University's Deanship of E-Transactions and Communications has attended a conference in Vienna on the content management and programming platform, Drupal.
The delegation came from the Deanship's Portal and E-Services department, and was the only Arab delegation at the "Drupal Camp", held at Microsoft's Vienna headquarters in late November, along with almost 300 other delegates from 25 countries.
The Portal was represented by the director of the department of development and programming, Abdullah Bamelhes, along with Bilal Al-Hallak, Saud Al-Fadhli, and Essam Al-Qaie.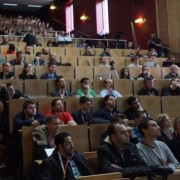 The conference included multiple sessions, but focused primarly on the latest Drupal version, Drupal 8, and the technologies used in its set up.
An intensive course called "Introduction to Symfony 2" preceded the conference, lasting for nine hours, and tackling a number of technical and programming issues, as well as social media organization.
Open work sessions were also organized on the last day of the conference, tackling a number of problems and providing solutions ideas on the structural level of Drupal in a way that conformed to the new Drupal 8.
The delegation met with the conference team and discussed several issues related to technology and work development, and also discussed KSU's success story with the platform as a regional and international leader.
The conference organizers expressed their admiration for KSU's use of Drupal, reflecting a high-standard of service provision over past years.
The dean of E-transactions and Communications, Esam A. Alwagait, said that "KSU always seeks to develop the capacities and potentials of its employees in its different academic and administrative units.
"Accordingly, the participation of the delegation of the Deanship of E-transactions and Communication or any other representatives of the University in such international events will certainly have a tangible influence over the development of the administrative and technological work inside the University." Alwagait said.
Waleed Alsalih, the deputy dean of E-transactions and Communications, said "this participation will undoubtedly have a positive influence which will accordingly reflect upon the employees through the development of working methods, the improvement of the performance and the acquisition of new experience and skills which will contribute generally to improving the administrative level and hence the Deanship level."
The general manager of the portal and e-services department, Hamad Al-Qahtani, assured that he is always keen on staff participating in such events, and added that the delegation had benefited greatly from such participation as they got acquainted with new work mechanisms of Drupal 8 and had been able to come in touch with experts and engineers who are specialists in the field.
Al-Qahtani moreover stated that such experience would be applied to the department's future projects.
Related News