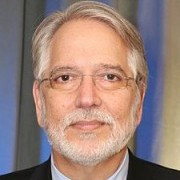 Professor George Chrousos has visited to KSU welcomed by  Vice rector for Graduate Studies and Scientific Research Ahmed Al-Aameri, Chair in biological indicators Research for Osteoporosis on Thursday 12th December, 2013.
They tackled a number of issues in their conversation as they talked about the joint cooperation between this chair and the other supervised chairs, the international chair systems, the ways to develop research chairs inside the University, and the internationally followed criteria and regulations. It is worth mentioning that the talk was quite rich thanks to the great experience Professor Chrousos  is having as he works as a supervisor for UNESCO Chair in Adolescent Health Care and Kluge Chair in Technology and Society at the US Congress and also because of his great experience in the National Institutes for Health. At the end of the meeting, Dr. Al-Aameri gave the University's shield to Professor Chrousos as a sign of reward.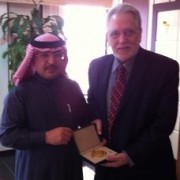 Professor Chrousos had previously visited the Dean of Scientific Research, Rshood M. Khraif. They talked about the different ways to develop scientific research. The meeting witnessed the presence of Nasser Al-Daghri,  supervisor of Prince Mutaib Chair for Biomarkers on Osteoporosis (PMCO) and Vice-dean of the Research Chairs Program.
Professor Chrousos is professor and chairman of the Department of Pediatrics at the Athens University Medical School.  He was previously Senior Investigator for the National Institutes of Health (NIH).  He holds the UNESCO Chair on Adolescent Health Care and held the John Kluge Chair in Technology and Society, Library of Congress, Washington.
Professor Chrousos is among the 250 most prominent clinical investigators in the world. He has authored more than 1100 scientific publications, has edited 29 books and his work has been cited over 65,000 times. According to the ISI, he is the highest cited Clinical Pediatrician and Endocrinologist in the world. His publications reached a number of 1086 among which 148 published in the best scientific magazines in the world. Two of his papers were published in Nature, 14 papers published in New England Journal of Medicine, 5 papers in JAMA, 11 procedural papers in National Academy of Sciences, and 23 papers in BRP : 7 in 2011, 10 in 2012, 6 in 2013 and he has two more projects.
Professor Chrousos lectured on Research Chair Concept and Application in Higher Education institutions. This lecture has organized by Prince Moteb Chair with the cooperation of Research Chair Program on Sunday 15th December, 2013.
Related News