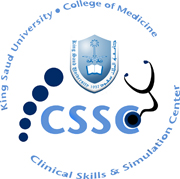 King Saud University's Clinical Skills and Simulation Center (CSSC) in the Medical Education Department will be offering a simulation course titled "Interventional Bronchoscopy Simulation Course & Workshop" starting from March 15 to 16, 2014.
The purpose of this two days course uses simulation and skill stations to teach a "Hands on" approach to bronchoscopy procedure.
Course included following objectives:
Recognize the various parts of a bronchoscope;
Discuss common bronchoscopy complications and how to minimize them;
Practice transbronchial needle aspiration using a simulated patient;
Perform flexible bronchoscopy to remove foreign objects from a simulated patient;
Understand the anatomy of the bronchial tree and recognize the various segments through the bronchoscope;
Effectively perform a bronchoscopy for a simulated patient with hands-on training with a video bronchoscope.
Course fee would be for this two days simulation is 1500 SR.
Instructors for this course will be Dr.  CSSC supervisor Dr. Sami A. Alnassar.
For registration please contact 014692655 or cssc@ksu.edu.sa or you may filled registration form here.
Related News