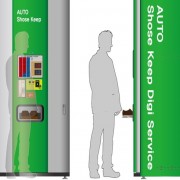 A King Saud University developed device used for auto shoes storing and retrieving system and received US patent entitled: 'System for storing and retrieving shoes' under  'US8641353 B2' patent number.
The newly system developed by Mohammad Alissan Alghamdi, Assistant Professor at College of architecture and planning.
 Thamer A. Albahkali, director of Intellectual Property and Technology Licensing Program (IPTL) at KSU stated the system for storing and retrieving shoes includes a cabinet defining a housing enclosing storage units. The housing defines a central shaft for raising and  lowering shoe trays, and defines two columns of storage rack units for the shoe trays on opposite sides of the central shaft.
Further, Thamer A. Albahkali also informed this device can also save and retrieve things that should be left temporarily outside mosques, mosques, and can be used in places that require replacement footwear such as gyms and fitness venues and galleries.
Related News