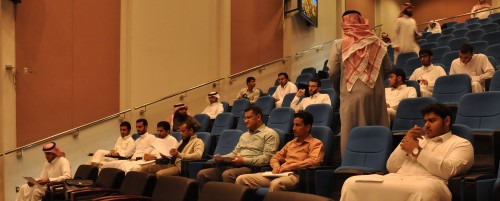 A workshop about the quality system KSU-QMS was conducted recently under the patronage of Dean Hassan Mathkour by College of Computer and Information Sciences (CCIS)  in the presence of  Dr. Tai Bowen - consultant in the deanship of quality and a number of faculty members, staff in the college departments and various administrative units.
The workshop started at 11 a.m. until 2:00 p.m. and was held at the CCIS's main auditorium and was transferred to the female's section by a closed network.
The main presentation was by Professor Aladdin Hafez and Safwan Qasem and other faculty members in the CCIS, where they mentioned many positive aspects of the application of quality system KSU-QMS, as well as showing a future view and perspective of the quality in King Saud University and many issues related to quality and the similarities and differences between the systems QMS and NCAAA.
The interaction of the audience with the presentation and initiated a discussion of many issues relating to the KSU-QMS system and ask many questions and had some inquiries.
Related News