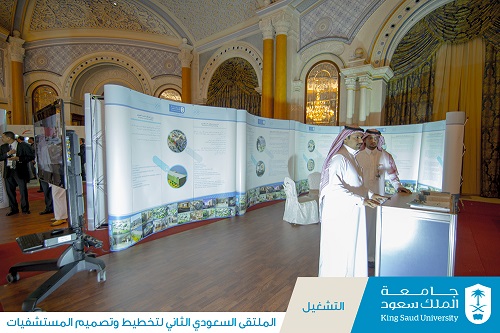 King Saud University Medical City (KSUMC) took part in the 2nd Saudi Forum for Hospitals Architectonics, which is organized by the Saudi Umran Society and sponsored by the Deputy Minister for Medical Supply and Engineering Affairs, Dr. Salah Al Mazrou, at the Ritz-Carlton from 22nd to 24th of April 2014 with the participation of a number of government sectors in the Kingdom.
Dr. Al Mazrou opened the accompanying exhibition in which KSUMC participated along with a number of leading companies in the field of architectonics. He, accompanied by Engr. Ahmed Al Baiz and a group of participants and speakers, have also visited the KSUMC's designated corner, and a group of participants and speakers of the conference. The guests were briefed on the corner contents equipment reflecting KSUMC's development.
"KSUMC" highlighted, through its participation in this international gathering, the stages of development as well as the giant current projects, future plans and contributions for the development of the medical sector in the Kingdom.
This Forum, in which 30 experts from the Middle East, Europe and America have participated, aims at spreading the knowledge of hospitals architectonics, and to introduce the modern developments and future aspirations in this field in addition to strengthening and encouraging scientific cooperation among those interested in the architecture of hospitals and to encourage.
In this forum, representatives of governmental sectors participated in this event such as the Ministry of Health, Defense, Interior, National Guard, Higher Education as well as professionals in engineering, consulting and a number of academics, engineers and contractors for implementing health care projects in the Kingdom.
The participants will discuss in the forum several topics in the field of engineering and architecture of hospitals, especially the planning and design of health care buildings and their suitability for the local environment based on the social, cultural, economic and environmental spectrum. Furthermore, they have tackled issues related to modern technologies, environmental systems for hospitals and the possibility for future expansion plans.
Related News