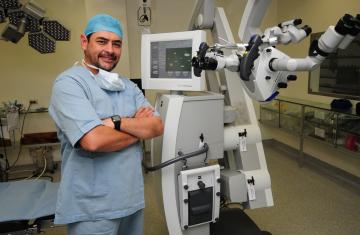 The Department of Neurology at King Saud University Medical City (KSUMC) started using the latest and most accurate microscopic device for neurosurgery. This device comes as an implementation of its policy to employ the latest hardware in this field, which will provide safety for the patients during the surgical operation.
Further, device includes features allowing the surgeon to see blood flow in white, while other cells appear in black, which can eliminate any risk of damaging the patient's arteries by mistake during surgery.
In addition, new device serves as the right hand for the surgeon, as it can assist the surgeon by differentiating between tumors and healthy cells within the brain. During surgery, the tumor shows up as a colored image in pink while healthy cells appear in blue, allowing the surgeon to make sure that there are no remaining cancer cells, which helps achieve accurate results.
The potentials of the device are not limited to this, but extends to help the surgeon differentiate between the arteries according to the flow of blood during the dilation of blood vessels which allows the surgeon to clearly determine the position of expansion, thus sparing the patient the possibility for expansion of another one later on. In addition, the device can be connected with nerve surveillance devices in order to alert the surgeon if he is approaching any nerves, which in return provides the highest level of protection for the patient. This device can save and print information making it at the forefront of neurosurgical devices in the Kingdom.
It is worth mentioning that the Department of Neurology at KSUMC is considered to be ahead of other department around the Kingdom in terms of availability of qualified specialists with high levels of expertise and international certification, the variety of techniques and sophisticated devices, as well as the operating rooms which are designed according to the latest international standards, which adhere to the international regulations.
Related News