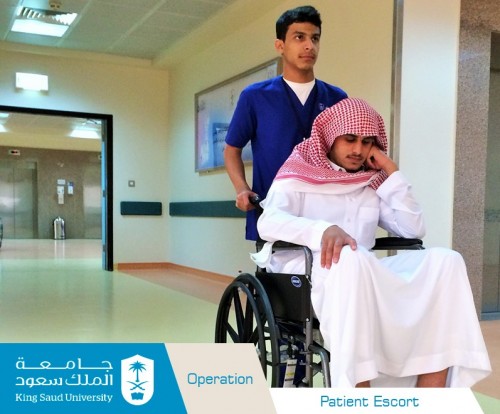 King Saud University Medical City (KSUMC) launched a new service entitled "Patient Escort" which aims to provide escort services to KSUMC patients by qualified and trained nationals in accordance with the highest standards. This program is managed by Saudi nationals of both genders in order to provide escort services for patients, the elderly, and those with special challenges, as well as ensuring their safety during their stay at the Medical City by helping them transfer from vehicles to wheelchairs or carriages. The patient escorts also make sure to accompany the patients to their clinics in KSUMC and its facilities including X-Ray, Laboratories, and the like.
Dr. Omar Al-Obeed, Chief Executive Officer of KSUMC, mentioned that this program is one of many programs developed by KSUMC in order to provide quality service for patients and catering for their needs upon arrival until they leave. This programs is also following the international high quality standards of patient care.
Further Dr. Al-Obeed added that patient escorts are going to help patients, people with special challenges and the elderly in order to accompany them to clinics or other facilities at KSUMC. In addition, this program comes in the context of what KSUMC is seeking to accomplish through development of patient care and its quality.
Mr. Abdulmohsen Al Ashry, Chief Operating Officer of KSUMC, said that this service launched after selecting a number of national talents, and making them go through a phase of special training to prepare them for this humanitarian mission. Further training programs will be conducted in order to develop their skills and ensure providing this service in the best way possible.
Mr. Al Ashry, extended his gratitude and appreciation to Abdulrahman Al-Muammar, KSU's vice rector for Health Specialties for his keen interest in supporting new ideas, and initiatives that raise the bar for medical services provided to patients at KSUMC.
Related News