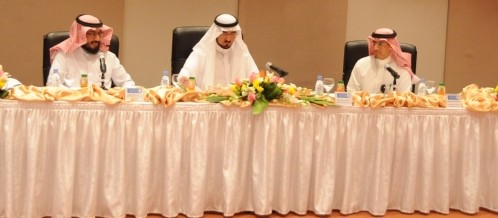 Under the patronages Vice Rector of of Academic and Educational Affairs,  Abdullah Salman Al-Salman organized a workshop on peer consultation teaching program.
The peer consultation teaching workshop opened by Abdulrahman S. Alangari, Assistant Vice Rector for Academic Affairs and Academic Plans of Study at Vice Rector of of Academic and Educational Affairs on May 14 2014.
Assistant Vice Rector Alangari stated quality education system requires 'peer consultation teaching' in universities to ensure quality of teaching and learning practices. In addition, he said there are many global models available, which can be used according to needs of universities to achieve their objectives.
Abdullah Al-Salman, Vice Rector of of Academic and Educational Affairs welcomed attendees and appreciated their interaction for upgrading educational process at KSU in his speech.
Further Vice Rector Al-Salman explained peer consultation teaching program provides instructors with a peer consultation service that is based on a collaborative peer development model. The program adopts a learning-centered approach where instructors are viewed as active and reflective practitioners who want to better understand and improve their teaching and their students' learning.
In addition, Vice Rector Al-Salman said, the consultation process is an iterative cycle of observation, documentation and analysis of teaching practices and students' behavior and responses as a means to build personal understanding of their learning and develop a plan to refine and/or test new ways of supporting that learning.
Related News