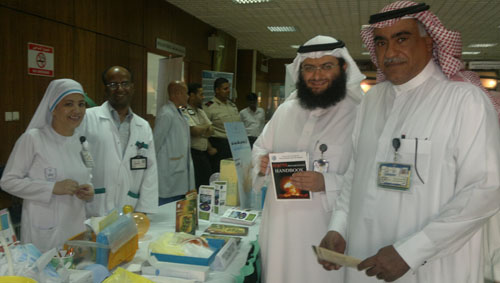 The Medical City at King Abdulaziz University Hospital in Riyadh recently conducted an event celebrating the Environment Day, at the surgery building, and this campaign aims to educate visitors on the importance of preserving the environment, and promoting safety precautions to ensure public health and prevention of diseases.
The event organizers offered several activities in which visitors were provided with awareness brochures about ways to fight and prevent infection transmission. The visitors were also briefed on the internationally modern methods for disposal of medical waste, and the correct ways to performing hand hygiene. In addition, there were informative lectures of Environment Day in which the Department of Safety and Security participated with an explanation of the different types of fire and means of prevention at the Medical City. Visitors of the event were also informed about the value of preserving the environment and ways to taking care of it. At the end of the event, the organizers presented the attendees with some gifts imprinted with the logo of the occasion as well as other prizes to attendees.
The Medical Director of King Abdulaziz University Hospital, Dr. Khalid Al-Qahtani, said that, through this celebration, the Medical City is seeking to raise the level of awareness among the community and health practitioners in particular, on the need for maintaining a clean environment, especially, in the medical field, as well as obtaining high quality standards within the medical facilities which is already perceivable at KSUMC. Dr. Al-Qahtani praised the efforts of the Support Services Department who organized this event emphasizing the need for the continuation of such activities, which help raise awareness of social and environmental protection.
Mr. Abdulmohsen Al Ashry, Chief Operating Officer of KSUMC, pointed out the keenness of KSUMC to support and adopt support and adopt healthy lifestyles, and to encourage environmental initiatives by mebers of the community. Further, he affirmed that the Medical City is determined and committed to maintaining a healthy the environment, noting that this vision came around supported by HE the Chief Executive Officer of KSUMC, Dr. Abdulrahman Al-Muammar, to ensure a healthy medical environment for the safety of the community of epidemics and diseases, which will contribute to achieving this goal, and establishing a prominent position for the Medical City as an outstanding medical institution in our beloved country.