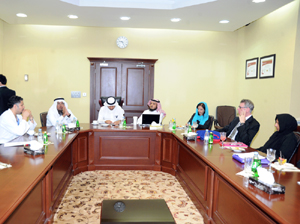 The Mayo Clinic delegation has visited King Saud University- Medical City (KSU-MC) on Monday 23 June 2014, whereby the visit was leaded by the Vice Dean for Academic Affairs – and on behalf of the Dean of College of Medicine and Supervisor of University Hospitals - Dr. Faisal Al-Saif, and different valued members of King Saud University- Medical City. The Mayo Clinic team were eventually introduced to the various types of provided services and health care programs for King Saud Medical City patients and visitors, and its advanced and state of the art technology.
Dr. Al-Saif in his speech, presented the significant developments witnessed by the Medical City, and specified its current and future plans and strategies, in addition to the developmental steps to acquire the optimum quality of international health services for the patients of KSU-MC.
After which, the Mayo Clinic delegation went for a tour around the Medical City departments including Radiology department and Laboratories - where they were introduced to the different high standard equipment, Intensive Care Units, Emergency department, and Dental Hospital. The Mayo Clinic continues to examine the OR rooms, its latest devices and technology and the distinguished design which is fit to the specification of global standards in the field of OR rooms designing. The tour was concluded with a meeting between Mayo Clinic Group and a number of Medical City leaders wherein the two parties agreed to work together in exchanging experience, and discus several matters of interest on both side.
In addition, Dr. Al-Saif stated that this meeting aims to strengthen the connection between King Saud Medical City and Mayo Clinic Hospital. Further, Dr. Al-Saif added that it should also encourage the opportunities of  exchanging experiences and useful information between the two hospitals, and to advance the field of health care internationally, and abreast with the developments in the Research, Scientific, and Clinical fields, as well as supporting medical and  specialized scientific experiences.
The Delegation of Mayo Clinic appreciated the efforts of allowing such opportunity to visit King Saud University – Medical City.  They conveyed their admiration on the progress of developing the Medical city with modern medical equipment, as well as providing international services for patients which a testament that King Saud University- Medical City has acquired great potentials in leading to significant improvements in the field of health care in the Kingdom of Saudi Arabia.
Related News