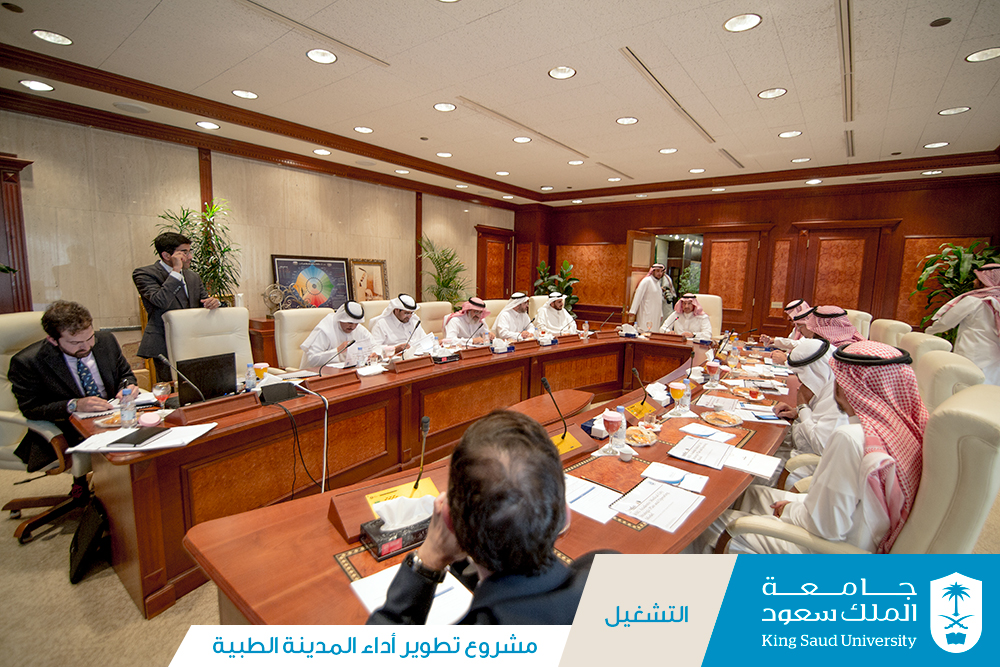 King Saud University Rector Badran Al-Omar and Board Director of King Saud University-Medical City (KSUMC), initiated the project of developing Work Performance in the medical city and has recently presided its first board meeting.
The project will start through the partnership between a number of specialized consultative institutions and King Saud University-Medical City. The field of health care in Saudi Arabia is always seeking new methods in forming a healthy community, thus the project is considered as one main steps towards building the ideal Medical City.
One of the important goals in developing the Medical city is the strategy on the reinforcement of various areas in health, therapy and researches. Another strategy is the implementation of training courses for specialists in the field of health care, which will help them conduct scientific researches regarding common health issues in Saudi Arabia, such as heart and diabetic diseases and prepares general health programs.
Meanwhile, a special executive committee was created under the leadership of the Chief Executive Officer, Dr. Abdulrahman Al-Muammar, along with the sponsorship of several managers of different administrations to provide support to this strategy for King Saud University-Medical City, and fulfill the services of developing the Employee Work Performance.
Further, the main tasks of the committee includes supervision and initiate the executive plans of the project.
To provide effective management for the project, a new administrative office was allocated in order to focus on the process of plan executions and assure the fulfillment of the wanted requirements in accordance with the contracted terms. The administrative office will be responsible for coordinating the work of the added teamwork and submit efficiency performance reports.
The office will consist of several committees such as Committee of Strategic Planning, Committee of Governance and Developing Organizational Structure, Committee of Preparing Functional Requirements of the Workforce.
On this event, the Rector of the University and Director of the Board of King Saud University- Medical City stated that the project of developing work performance is considered as a new beginning and added that the project for strategic planning is one of the most significant developmental projects that has occurred in the medical city, due to partnership of experienced companies in strategic planning and specialized institutions in the field of administrative consultancy. Rector Al-Omar also mentioned that the project is another leap forward for the organization to serve the purpose of establishing an inclusive Medical City.
Finally, Rector Al-Omar expressed his gratitude to the members of the board and appreciated their tireless efforts for the development of the King Saud University- Medical City.
Related News