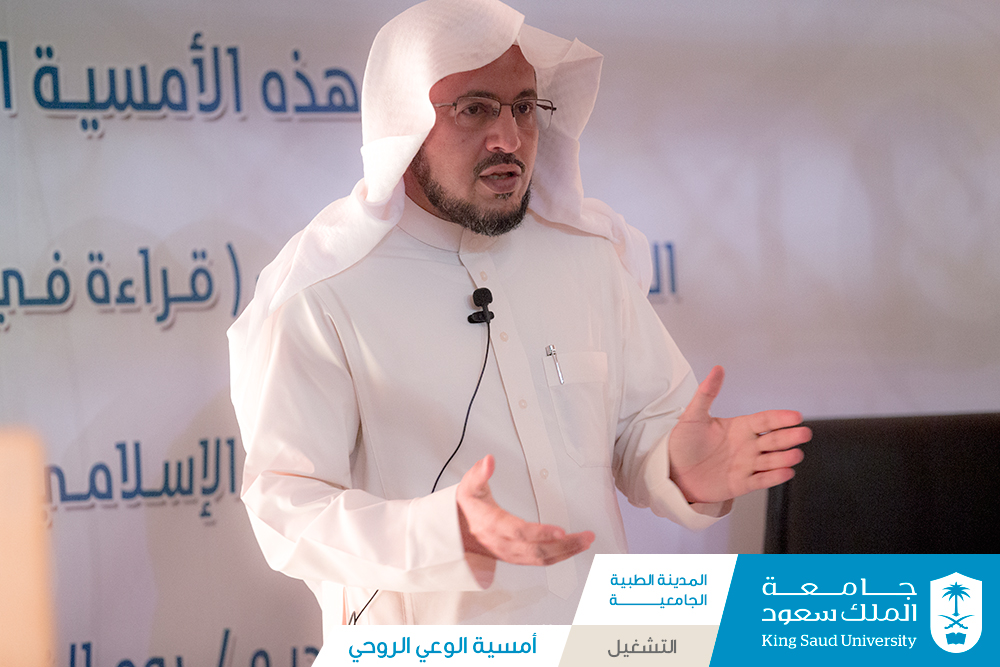 Under the sponsorship of King Saud University - Medical City (KSU-MC), the Chief Executive Officer, Dr. Abdulrahman Al-Muammar, KSUMC hosted a very significant event for an educational evening at the main hall of the hospital, which was represented by the Business Center on Thursday, July 10, 2014. The lecture was entitled "The importance of Spiritual Consciousness", conducted by the Islamic scholar, consultant, and member of Majlis Ashura, Dr. Muhammad Salih Al-Duhaim.
The event was opened by a recitation of the Holy Quran, followed by the speech of Dr. Muhammad Fouda Director of King Fahad Cardiac Center of King Saud University Medical City, which he implied the great value of this lecture for its significant benefits on positive thinking. Prof. Fahad Al-Zamil, Dean of College of Medicine and Supervisor of University Hospitals, gave his speech, and  welcomed the participants, emphasizing the importance of meditation and assuring that it is the traits of the prophets before us- peace be upon them-.
Dr. Muhammad Al-Duhaim begun his lecture with the question, Why does people tend to head towards consciousness, and the age of wisdom? In which he introduced the different aspects affecting the future of humanity. Furthermore, he pointed out that human being is facing a new existence, and added that humanity is prepared for the age of wisdom which distinguish itself with consciousness of different research fields and adopting with its results.  He then assured that humans should always filtrate the hatred and immorality within, and seek for forgiveness and charity to each other, to achieve what he called "the spiritual success" that reflects positively on the lives of the members of this community as individuals and whole. He then pointed out that spiritual consciousness requires the modern man of this time to reexamine his concept of life in general in accordance with time and role factors.
On this occasion, Chief Executive Officer Abdulmohsen Al-Ashry, stated that KSUMC is determined to play a significant role in the community on both health and social levels. KSUMC has been effortlessly adopting several humanitarian events, voluntary and awareness campaigns, in addition to some educational and cultural evenings to meet the spiritual and mind needs.
Al-Ashry also took the opportunity to appreciate KSU Rector Badran Al-Omar and Dr. Abdulrahman Al-Muammar Chief Executive officer, KSUMC for their determination in leading the medical city to the highest level of international excellence.  
Related News