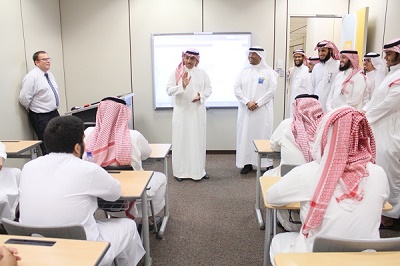 Rector of King Saud University Badran Al-Omar visited to Preparatory Year Deanship on the first day of new academic year. Where Rector Al-Omar met with new students and discussed schedule details, places of classrooms and asked their feedback about services at PY. In addition to that, Rector Al-Omar assessed classrooms facilities also.
Moreover, Rector Al-Omar also listened to detailed explanation given by PY Dean Nami Aljehani on annual induction day.
PY Dean Aljehani informed since day one, we are following attendance very strictly, nearly 12,000 students registered and they are regular in their classes. In addition, PY employees directed to new students to their classrooms and handed over a building map showing places of halls laboratories and other facilities at PY for them,
At end, new students expressed their thanks to PY deanship for this fruitful visit of KSU Rector.
Related News