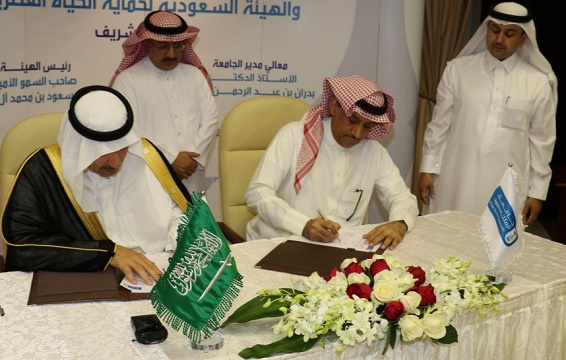 Prince Bandar bin Saud bin Mohammed Al Saud, president of the Saudi Wildlife Authority (SWA) visited King Saud University to sign a memorandum of understanding in the fields of scientific research and training on June 8, 2015 Monday morning.
Prince Bandar was received by KSU Rector Badran Al-Omar and the Vice Rector for Graduate Studies and Scientific Research Ahmed Al-Aameri as well a number of officials.
The memo was signed by HRH Prince Bandar and KSU Rector Al-Omar.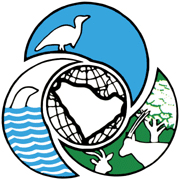 Prince Bandar called KSU a great home. He added that the signing of this agreement comes to confirm the reciprocal scientific cooperation between KSU and the SWA since the establishment of the SWA in 1986 AH.
Prince Bandar recalled that the first president of SWA was a Doctor from this university. He added that he sees SWA as part of KSU and its research centers are KSU research centers and he sees the KSU research centers as SWA research centers.
Further, Prince Bandar added that he is proud of King Saud University and its long-standing relationship with SWA, and proud of the scientific prosperity being sired by KSU. He added that it is a national duty that universities and educational centers should be integrated with the public and private sectors.
Moreover, Prince Bandar stated, "God willing, we will soon see the results of this memo benefiting the University and the SWA".
Prince Bandar added that the SWA will escort researchers from KSU as they visit natural preserves, training and research centers and will collaborate with them as they use its data banks to conduct research and training to help the preservation of nature and biodiversity.
In addition KSU Rector Badran Al-Omar also expressed his thanks and appreciation to Prince Bandar for his interest and fruitful cooperation with KSU, lauding the efforts of KSU and SWA researchers for preservation. He pointed out that the memo stipulates cooperation and the development of a general framework that supports scientific research and training and will allow researchers in both KSU and SWA to make use of facilities in both institutions. He hoped that positive outcome will result from the memo, with KSU and SWA  working in close cooperation for research, training and data collection to benefit nature, biodiversity, the citizen and society.