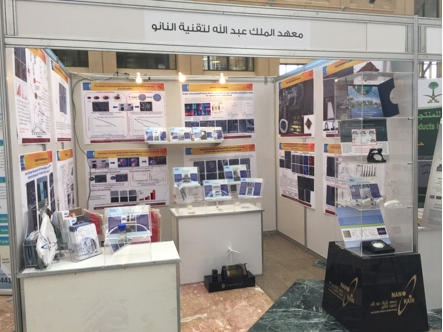 King Abdullah Institute for Nanotechnology (KAIN) participated in the Exhibition of the Second Saudi International Conference on Scientific Publishing 2015, which was held under the patronage of his Royal Highness Prince Faisal bin Bandar bin Abdulaziz Al Saud - Governor of Riyadh, and which was opened by the Rector of KSU, Prof. Badran Alomar on Sunday, October 11, 2015, in the Main Hall at King Saud University.
KAIN activities were presented by various models, leaflets and presentations showing the activities and areas of nanotechnology running in KAIN.
Dr. Aws Alshamsan, Dean of KAIN, explained that the participation of KAIN goes in harmony with the goals of the Strategic Plan of KSU and KAIN, which aims at building communication bridges towards a sustainable future where dissemination of scientific awareness about nanoscience and nanotechnologies is achieved.
Visitors expressed appreciation towards KAIN and its achievements.