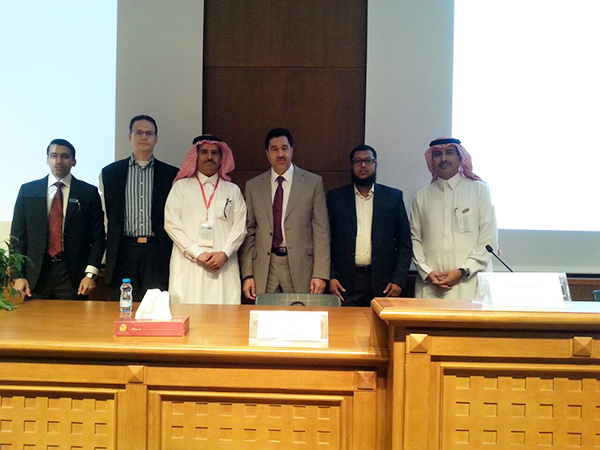 A workshop entitled, "Forefront of Scientific Publishing: Impact on Achieving Saudi Vision 2030" was organized on 8 November 2016 at the auditorium of College of Dentistry, King Saud University. The KSU Journals Unit hosted this workshop with the collaboration of Elsevier, a leading Science, Technology and Medical  (STM) publisher.
This event was organized under the patronage of the Rector of King Saud University, H.E. Prof. Badran Alomar with the supervision and support of the Vice Rector for Graduate Studies and Scientific Research, H.E. Prof. Ahmed Alamri who was also the chief guest. The main objective of this workshop was to highlight the importance of conducting and publishing high-impact research for achieving Saudi vision 2030.
The organizer Prof. Salem Alghamdi, Director of KSU Journals Unit, opened the forum with his welcome speech and introduced the aims and objectives of this workshop. He underlined the importance of conducting world-class scientific research and publishing results in high-quality journals. Prof. Alghamdi mentioned that KSU will publish all of its journals in electronic format and all editor-in-chiefs of KSU journals are trying to achieve high quality of contents in their journals. The chief guest of the event, Prof. Ahmed Alamri, underscored the importance of Saudi vision 2030, which is aimed at transforming Saudi Arabia in to a knowledge-based economy. He stressed the value of self-reliance by indigenous research and development (R&D), innovation, entrepreneurship and human capital building for the prosperity of Saudi Arabia.
The workshop was followed by four invited lectures delivered by eminent academicians and professionals. In the first lecture, Dr. Remco De Boer, Executive publisher for MEA region of Elsevier presented a talk on the global key performance indicators of research. He identified that the research performance in terms of publications of Saudi Arabia is very attractive and Kingdom has published around 73,000 papers from 2011-2015. KSU has been the top institution in Saudi Arabia and shares around 20,000 publications. He also mentioned that the collaborative output of KSU is very promising with Europe, East Asia, and the North America. Dr. Remco delineated that the performance of KSU journals is tremendous in terms of quality and contents of the publications.
Prof. Muhammad Khurram Khan, who is a full professor at King Saud University, delivered the second lecture on New Strategies in Scientific Publishing. Prof. Khurram presented new publishing models and strategies to publish high-quality papers in scientific journals. He discussed how open access journals are changing the publication landscape and brining in   impact on the society as well as overall performance of the researchers, etc. He also discussed about the hijacked and predatory publication venues that are polluting science and harboring a lot of challenges for scientists, funding agencies, and society alike.  He demonstrated with some practical examples that how academicians and researchers can identify these hijacked and predatory journals. In addition, Prof. Khurram described the importance of academic social networks on establishing fruitful research and academic collaborations with interested researchers either in academia or industry. He praised the ambitious Saudi vision 2030, which is a key economic plan to transform the kingdom into a knowledge-based economy.
The third lecture by Dr. Tahar Boutraa of Taibah University was on the Contemporary Issues in the Ethics of Modern Scientific Publishing. Dr. Boutraa discussed the classical and modern ethics in publishing research papers. He outlined the importance of paying attention to the ethics of scientific writing, which if not taken seriously, could harm the reputation of a researcher.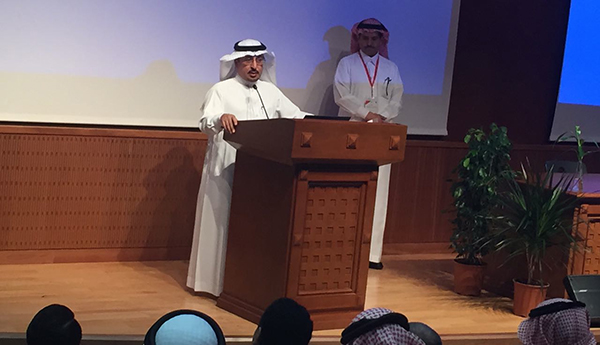 The last lecture was delivered by Shuaib Hussain Vaiyanna who is a senior publishing support manager of Elsevier. Mr. Shuaib discussed the new techniques of analysis using indexing database and editorial systems for scientific publishing. He demonstrated with practical examples that how researchers can take benefit from Scopus database for evaluating performance of their research. He also showed that how Scopus could be used in generating reports on the performance and research output of an institution.
During the workshop, certificates were also presented to the Editor-in-Chiefs of Biological Sciences Journal, Pharmaceutical science Journal, and Computer Science Journal of KSU for their commendable performance.