A number of students and staff at the Community College of King Saud University hosted some children of the Charitable Society for the Care of Orphans- man on Tuesday 01/02/1438 AH in a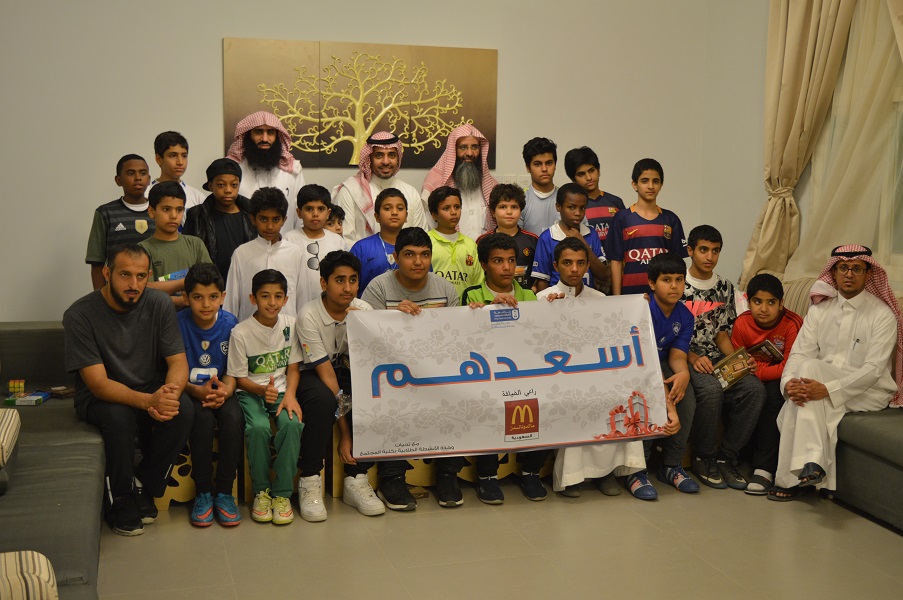 collective program within the social programs and activities carried out by the college.
Dr. Saad Al-Otaibi, supervisor of the students activities at the college, gave an awareness speech in which he highlighted the importance of supporting work by charitable deeds. The program included some cultural and social contests followed by honoring the children and giving out gifts.
The organization of this activity comes in a series of charitable works which the Community College commenced following the students' initiatives or partnerships with government and private institutions as the Community College, a major branch of the university, plays an important role in carrying out community service programs.
Professor Abdallah Attia Al-Zahrani, Dean of the Community College, expressed his great  happiness for the students' participation in this occasion. He said that the interaction between the college and the orphans in Riyadh is one of the cornerstones of the social responsibility shouldered by the college, which includes most classes of the local society, and the government and private institutions which follow the teachings of our religion that asks us to do good, communicate with society, and enhance the students' positive attitude towards society.
Professor Al-Zahrani expressed his admiration for, and pride in, the efforts made by the students of the Community College in interacting and communicating with their society. He also offered his thanks and appreciation to the Charitable Society for their response and cooperation which culminated in the success of the societal partnership programs and the excellent care and protection they provide for the orphans.