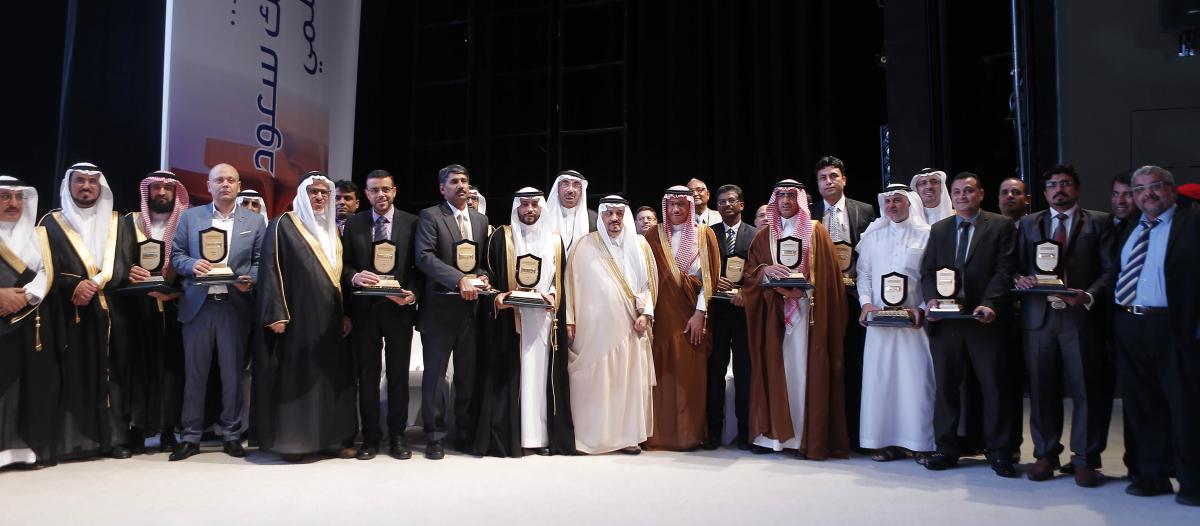 His Royal Highness Prince Faisal Bin Bandar bin Abdulaziz, Governor of Riyadh, sponsored today the closing ceremony to honor the winners of the 6th King Saud University Award for Scientific Excellence in Sheikh Hamad Al-Jasser Hall. In a press release, His Royal Highness expressed his pride in being part of such event, pointing out that it represents the leading role of King Saud University in scientific excellence and distinguishes the country and its people, stressing the presence of the Kingdom and its people in every local and international forum. He also emphasized that the Custodian of the Two Holy Mosques, King Salman bin Abdulaziz Al Saud, supports and gives great attention to scientific excellence and that the Kingdom has an evident and distinguished position in this field. During the ceremony, the Vice-Dean for Postgraduate Studies and Scientific Research, Dr. Ahmed Al-Amri, gave a speech in which he welcomed the Governor of Riyadh and all attendees and pointed out that this honored elite of researchers have outstandingly represented the university and the nation, taking their names into the vast space of the world, and contributed in making the Kingdom one of the world's fastest countries in scientific publishing.
Furthermore, HE Dr. Badran Al-Omar, Rector of King Saud University, gave a speech in which he explained that this periodic award is intended to celebrate the achievements of the university's scientists, improve the quality of scientific research, encourage and motivate the university's researchers and students to achieve excellence and participate in scientific competitions, and to honor and congratulate award winners.
His Excellency further added that what makes this award more important at this stage in particular is that it is in line with the Saudi Vision 2030, noting that the university will put forth greater effort into making this award more inspiring and responsive to the new vision. He also stressed that they are committed to promoting scientific research within King Saud University that has become a leader of discoveries and innovations and a factory for minds that efficiently contribute in building the Kingdom, indicating that, today, scientific research in the university occupies a high position, is one of its main aspects, and represents a strategic priority. Hence, the university has encouraged scientific research, formed research teams in different specialties, enhanced its financial resources, and honored researchers with rewards and honorary medals. All of which have contributed in making the university a competitive arena of various research fields of discoveries, inventions and scientific achievements thanks to the financial support allocated for scientific research and the support of the Ministry of Education that adopted the establishment of centers of research excellence. In addition to encouraging research and innovation activities and promoting scientific culture and interest in research among students through annual initiatives in the scientific conferences for students of higher education as well as support from the research success partner; King Abdulaziz City for Science and Technology. Moreover, he added that King Saud University has established the "KSU Scientific Research Support Fund" two weeks ago, which aims to engage the private sector in funding of scientific research within this prestigious university as new supporter of scientific research.
Afterwards, the Dean of Scientific Research, Dr. Khaled Al-Hamzi, announced the names of the 29 award winners in different categories, including four faculty members of the College of Medicine, namely Dr. Walid Abbas Zaher, Dr. Saleh Bin Zaid Al-Mohsen, Dr. Sultan Ayoub Mio, and Dr. Rabi'e Ali Halwani. The awards were presented by His Royal Highness Prince Faisal bin Bandar bin Abdulaziz, and a group picture of all honored winners standing next to the Governor of Riyadh was taken.