The College of Medicine at King Saud University and Dallah Health Company concluded, Wednesday 19/9/1438 AH at the College of Medicine, a research-funding contract in the field of supporting scientific research at the College. This initiative comes in line with the Kingdom's 2030 vision in the sector of public-private partnership. The Dean of the Faculty of Medicine, Dr. Khalid Bin Ali Fouda, and the CEO of Dallah Health Company, Dr. Ahmed Bin Saleh Baabeer, signed the contract.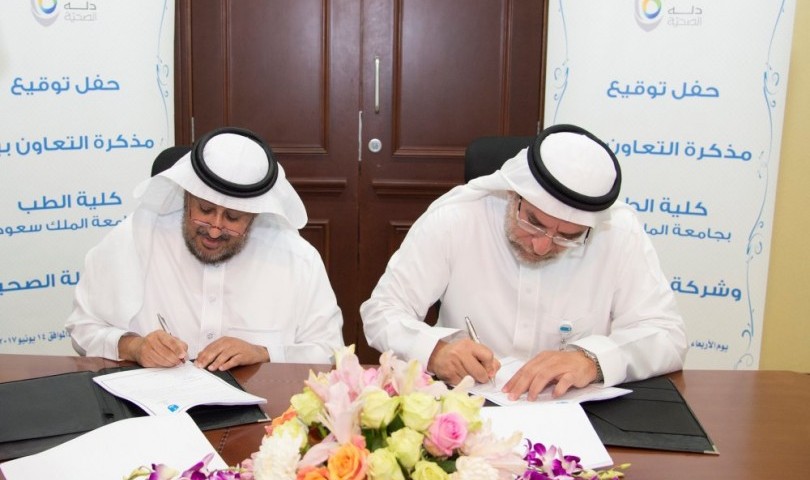 The Dean of the Faculty of Medicine Dr. Khalid Fouda said that signing the research-funding contract will contribute to supporting scientific research and involving the post-undergraduate students in the scientific research. He also added that this contract would be the first in the field of public-private training cooperation in the postgraduate studies, which will contribute to increase the number of admissions. He also pointed out that there would be studies conducted in researches in the economics of the private health sector and how to support it based on scientific research distinctive, stressing that King Saud University supports such initiatives from the private sector.
Vice Dean for Graduate Studies and Scientific Research, Dr. Majid bin Abdulrahman Al-Mady said that this contract aims to support scientific production at the level of faculty members and post-undergraduate students; In addition to supporting researches under the Innovation Unit with the supervision of the Arbitration Committee and distributing the resources according to the quality of scientific research and expected results.
The CEO of Dallah Health Company, Dr. Ahmed bin Saleh Baabeer, stressed that the contract comes within the framework of establishing bridges of communication between Dallah Health Company and the Faculty of Medicine at King Saud University to support scientific research and upgrading this field in order to develop health services in the Kingdom in cooperation between the public- Private health sectors, as the private health sector in the Kingdom is considered a partner in the growth and development of health services nationwide.