King Saud University represented at the global forum entitled as, 'Crossing the World Elite', organized by Southwest Jiaotong University from 6-8 December 2018 in Chengdu, China. 
Muhammad Khurram Khan, a Professor of Cybersecurity from the Center of Excellence in Information Assurance (CoEIA) was invited to deliver a keynote speech at the forum, which was attended by a large number of distinguished and emerging global research leaders in basic, applied and engineering sciences.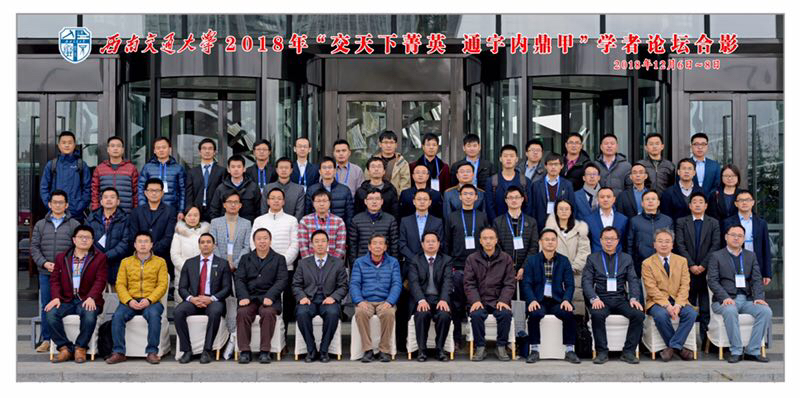 A group photo of speakers and participants at the forum
The forum was opened by speech of the Vice President of Southwest Jiaotong University Prof. Yao Faming who introduced the university, which was established 122 years ago in 1896 and considered as the key university of China in different science and engineering disciplines. He then highlighted that the 'Crossing the World Elite' Scholars Forum is an academic exchange platform for emerging global scholars, which aims to invite the excellent global talented professors, scientists and researchers come to our school to conduct academic exchanges through academic reports and seminars, promote liaison and cooperation, and grow together to build glory and advance the scientific disciplines through collaboration. The first keynote speech was presented by the academician Prof. Q. Qingquan, who is an academician (status granted by the Chinese Academy of Sciences) and world renowned scientist in transportation engineering.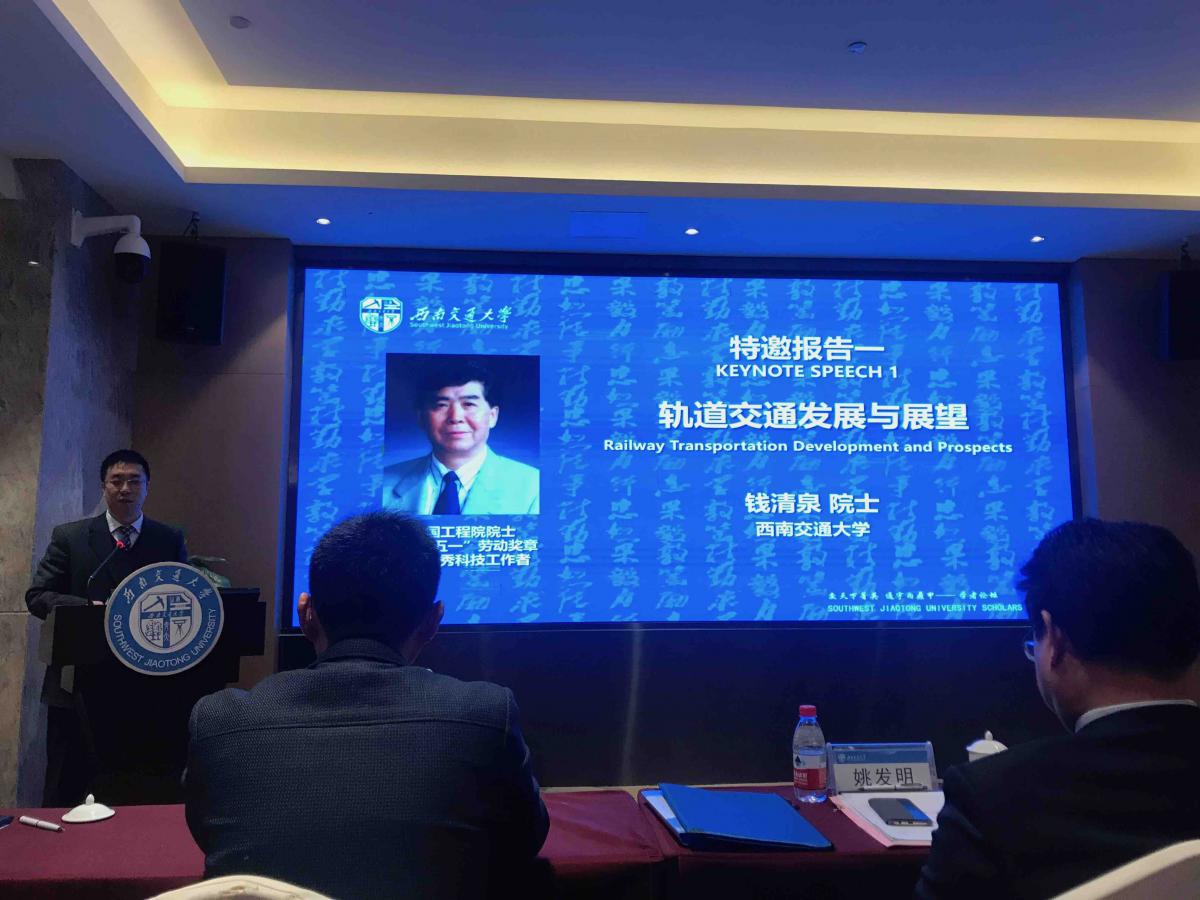 Academician Prof. Q. Qingquan presenting keynote speech  
Prof. Khurram presented his keynote speech on the title of 'Connected, Smart and Intelligent: Is Cyberspace Secure?'. At the outset of his speech he explained that the "Cyberspace is considered as a cradle of modern and disruptive innovations that has opened new horizons of socio-economic prosperity and competitiveness with unprecedented impact on the global society. It is pertinent to say that the cyberspace has permeated into our lives and has become a fabric of the modern world. Public and private sectors are highly reliant upon cyberspace and resultantly the economic growth and stability of a nation are extremely dependent on the secure and continuous availability of the critical information and communications infrastructure".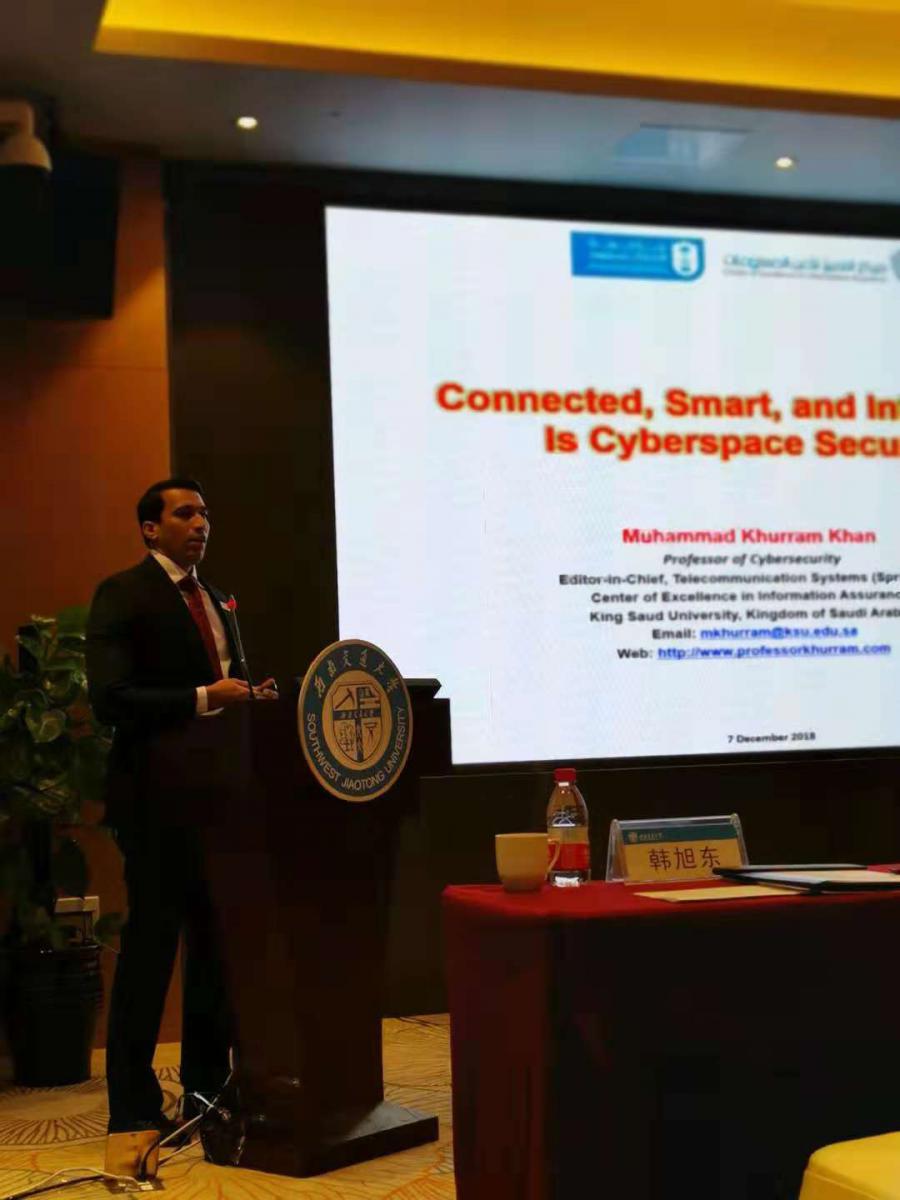 Prof. Khurram presenting keynote speech on the topic of Cyberspace Security
He further highlighted that "with the billions of hyper-connected, smart and intelligent devices, cyberspace harbors stringent challenges which could undermine the security and privacy of individuals, governments, and organizations alike. Threats and attacks from cyber adversaries are continuously growing with greater magnitude and sophistication, which has become one of the most serious economic and national security challenges for the cyberspace".
He then discussed that how threat actors are harnessing the power of advances in enabling technologies and artificial intelligence (AI) to become more adversarial and tenacious against the secure systems. He further explained that the AI is a double-edged sword in cybersecurity, which could be exploited by cyber adversaries and hackers for offensive operations by creating more advanced hacking and attack tactics with next generation intelligent malwares. Finally, at the end of the keynote, he displayed some of his research contributions/projects conducted at CoEIA, King Saud University, and elaborated on the future directions to build resilient and secure cyberspace.

Prof. Khurram presenting a seminar in sub forum on Big Data and Artificial intelligence
 
A sub forum was also organized during the event in which, scholars from over the globe presented research seminars/lectures in different areas of basic, applied, and engineering sciences. The forum attendees were also invited to tour the national key labs and research institutes of Southwest Jiaotong University, especially the world's first prototype testing platform for an ultra-high-speed vacuum magnetic levitation (Maglev) train that can travel at a whopping speed of 1000 Kilometer/hour under ideal conditions.