CoEIA KSU Professor, Dr. Kashif Saleem, participated as a Panelist Speaker for a panel discussion session titled "Securing Digitization in an Era of Unprecedented Cyber Threats" at Government DX Summit held on November 5-6, 2019 at Intercontinental Hotel in Riyadh, Kingdom of Saudi Arabia.
During discussion, Dr. Saleem highlighted major factors of cybersecurity awareness as well as Artificial Intelligence (AI) in Cybersecurity and stated, "AI is a huge topic and a kind of umbrella that contains numerous algorithms, some of them are nature-inspired and other are ideology based. These algorithms are developed to resolve specific problems and a number of such algorithms are combined together as a complete system. The system can handle cyber security, if it contains the algorithms that are meant to detect vulnerabilities and tackle cyber attacks." In this regard, Dr. Saleem further said, "multi-million dollar funded research projects are in the drawers of the Kingdom's universities such as King Saud University, where the local market can heavily benefit from them by collaborating with the project investigators, who are ready to cooperate and collaborate".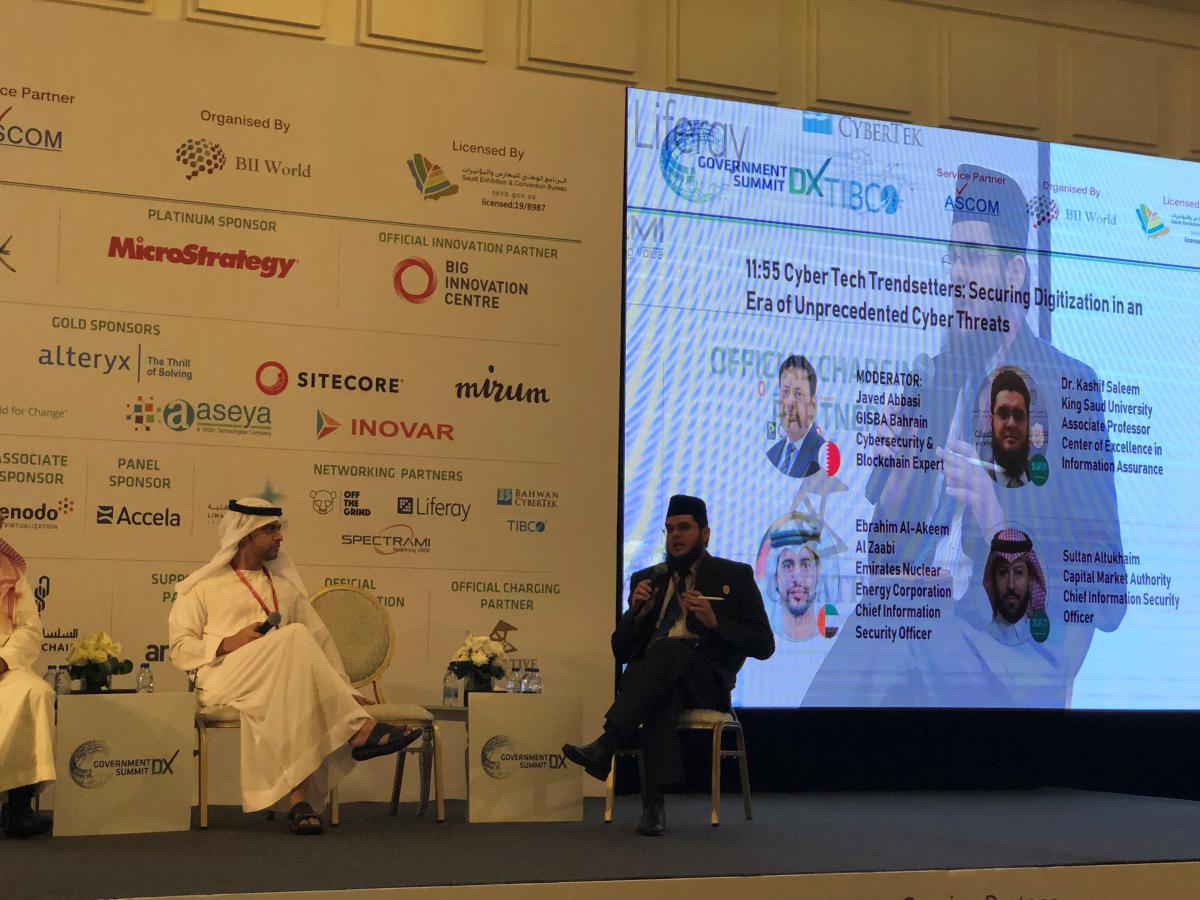 The panel discussion was moderated by Mr. Javed Abbasi, Cybersecurity & Blockchain Expert, GISBA Bahrain; with other panelists Mr. Sultan Altukhaim, Chief Information Security Officer, Capital Market Authority, and Dr. Ebrahim Al-Alkeem Al Zaabi, Chief Information Security Officer, Emirates Nuclear Energy Corporation.
The conference was organized by BII World Ltd. 
http://www.govdx.biiconferences.com
with the objective to ensure an effective, convenient and robust public service to the citizens through digital transformation (DX). This includes developing a robust e-government system, enhance productivity amongst government employees, transform leadership, use data effectively, ensure secured transactional services for the citizens and many more.