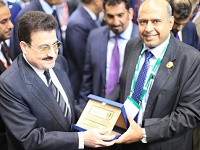 HRH Prince Mohammed bin Nawwaf bin Abdulaziz, the Saudi Ambassador to the United Kingdom (UK), visited to KSU's booth in the Career Day event held at ExCeL's Exhibition Centre in London.
The event was organized by the Ministry of Education represented by the Saudi Arabian Cultural Bureau in London.
HRH was accompanied by Dr. Faisal Abalkhail, the Saudi Cultural Attaché, and a number of officials from the Saudi Embassy and Cultural Bureau.
The event coincided with the fifth graduation ceremony for UK graduates of King Abdullah's Scholarship Program for the academic year 2014/2015.
During the visit, Dr. Saad Al-Hussain, KSU's Dean of Faculty and Personnel Affairs and the Supervisor of Recruiting Outstanding Saudi Students Abroad (ROSSA), briefed HRH the Saudi Ambassador that the purpose behind participating in such an event is to recruit outstanding Saudi students at UK universities.
The Dean Al-Hussain also spoke about ROSSA's new electronic portal.
Finally, Dean Al-Hussain presented an honorary mementoes to HRH Prince Mohammed bin Nawwaf.
It is worth mentioning that KSU Rector Badran Al-Omar personally oversees KSU's participation in Career Days abroad.
Related News