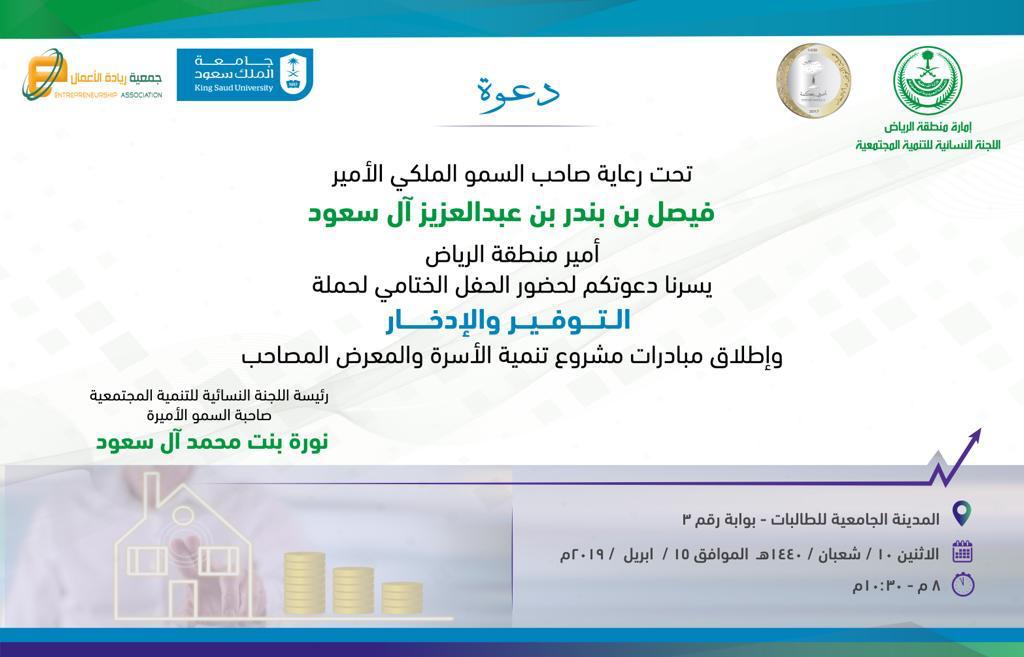 Prince Faisal bin Bandar bin Abdul Aziz, the Governor of Riyadh Region, patronizes on Monday 15th April, 2019 the closing ceremony of the saving campaign organized by the Women's Committee for Community Development in Riyadh, in a strategic partnership with King Saud University. The ceremony will be held in the presence of Princess Norah bint Mohammed (Chairperson of Women's Committee for Community Development in Riyadh) at the Main Auditorium in KSU Female Students Campus.
"We are concluding the campaign which was initiated by Women's Committee for Community Development, aimed to increase public awareness of the importance of saving and spreading the culture of saving in society, and strengthening the role of the family in contributing to the national economy and achieving social development. The committee identifies the developmental needs of the society, builds social partnerships and executes these initiatives." Princess Norah bint Mohammed in a statement about the campaign.
"We confirm the committee's readiness to establish cooperation with all segments of society to present their projects and initiatives in order to achieve our common development aspirations for the region." She added.