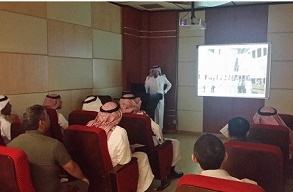 King Abdullah Institute for Nanotechnology (KAIN), headed by Dr. Aws I. Alshamsan, and the Sustainable Energy Technologies (SET) center, headed by Dr. Mamdooh bin Saud bin Thunayyan Al-Saud organized the first joint workshop on Tuesday April 28 ,2015.
The workshop comes in the framework of bilateral cooperation between KAIN and SET in many quality research projects. The workshop aimed to discuss recent research developments in energy and water areas, where the latest research activities were presented by professors and researchers in both KAIN and SET.
Further, the workshop discussed possibilities of joint research collaboration in current working projects as well as future opportunities for new potential missions. The workshop was attended by researchers and specialists in KAIN, SET, College of Engineering and College of Science.
Related News