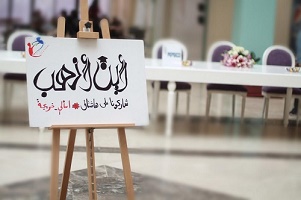 Club of Translator in the Languages & Translation College female sections held exhibition entitled (where should I go). The exhibition targeted the students expected to be graduate soon, it provides employment opportunities through invited companies and institutions interested in employing KSU graduates especially the graduates of Languages and Translation College. The exhibition started on Monday April 27, 2015 and run next 3 days.
The ceremony started in honor of Dean of humanities departments Benayeh M.S. Al Rasheed and the vice dean of Languages and Translation college Hind Al-Otaibi welcomed the attendees. She confirmed the college support for the students to achieve their dreams and to find the suitable opportunities. Also Ms. Amerah Al-Mashjari referred to the effective role of the Translator Club by holding various cultural events and activities.
Ms.Reem AL.Jlil from (Ingeu) company of Rehabilitation and Employment thanked the college for its efforts.
The exhibition hosted number of graduates to talk about their working experiences. The college held training session about writing CV and answered the questions in the hashtag #Ask_graduate.
The exhibition hosted more than 15 companies and institutions interested in employment and rehabilitation. The exhibition witnessed a lot of attendees, students and staff.
  Related News