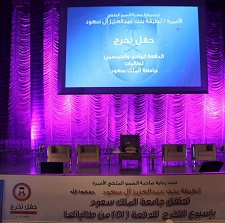 King Saud University Female' Campus held a graduation ceremony for the 51th Batch, in honor of HRH Princess Nouf Faisal Turki Al-Saud on May 9th, 2015 takes place on the central theater of the ceremonies and exhibition building.
Humanities Colleges Dean Benayeh M.S. Al Rasheed of the delivered a speech instead of Vice-Rector for Female students' Affairs Einas Sulaiman Al-Eisa.
Moreover, Dr. Benayeh congratulated the student and wished for them progressive success. The university always concern with rehabilitate students regarding them the most effective component in the educational process. Also the university concern with develop teaching methods and encourage the students' creativity and innovation in addition to use the electronic technology in order to improve the Teaching Aids.
Dean Benayeh thanked all the leaders and the university staff for their efforts against the university programs, plans, kinds of achievements in the two stages Bachelor and Postgraduate. She prayed for the country to be save under the government of custodian of the two holly mosques.
Finally Dr. Benayeh thanked the committee which organized the ceremony.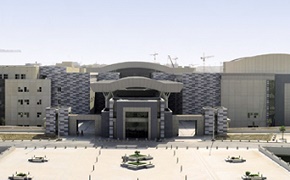 The ceremony started with the procession of the faculty members, Dr-Nuorah Abanmi the Vice-dean of students affairs was in the front followed by Vice-deans of colleges and the Vice-deans of supporting deanships, then the procession of Postgraduate students BHD, Fellowship , M.A., The excellent students and the students who achieved the honors degree from different colleges.
The university announced the expected number of graduates in the year (2015), 4491 Bachelor students, 746 master, 52 BHD, 11 fellowship and 4 students in the medical diploma. 362 students got the first class honors degree and 1152 got the second class honors degree from the humanities, scientific and medical colleges.
Related News