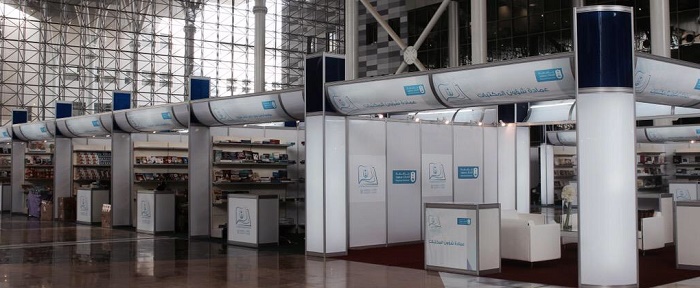 HRH Princess Nurah Muhammad Al-Saud, the concert of Riyadh region prince, opened the second Book Fair at KSU female campus under the title of 'Toward Reading Generation' on Sunday April 26, 2015. The book fair have been run until May 5, 2015.
On the first day the book fair included various sessions of cultural symposiums held in the auditoriums of exhibitions and celebrations.
Humanities departments dean Benayeh M.S. Al Rasheed welcomed  HRH Princess Nurah as well as the attendees and the participants, wishing for them Fun and useful time. Dr. Benayeh thanked the government leaders for protected the country of risks by taking the decision of (Decisive Storm), through that decision the leaders of the kingdom gave a clear message to all those who might lurk in our country. She prayed for the Yemeni people to be saved.
Moreover, Dr. Benayeh emphasized the importance of the book and the effective role of reading. She thanked all the organizers and the participants. Also she emphasized the important role of KSU through hosting cultural exhibitions and activities.
In addition, opening of the book fair has been announced in the female's campus in honor of HRH princess Nurah Mohammad Al-Saud, she mad a tour around the publishers and the participated bodies.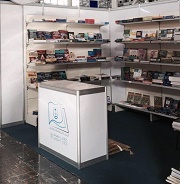 The first session of the cultural symposiums headed by Dr. Lamiah Al-Jaser under the title of (How to read). In this session Dr. Sumaih Al-Mansor gave lecture about the reading to illustrate the differences between the kinds and the skills of reading.
After that Dr. Aljwharh Al-Fraj talked about books, and how the ancestors were interested in reading. Also she talk about the community role in maintaining books.
The book fair included writers signing such as Dr. Suad Al-Mania, she signed her book (Women and poetry critique at the beginning of Arab criticism).
The second session was about (e-libraries) headed by Dr. Mudi Abdullah Al-srhan. In this session Dr. Bsma Al-Tiar talked about the advantages of the e-research and the kinds of difficulties, she gave a recommendations and displayed the data bases.
Reem Al-Shigi, a master student talked about the advantages of the research in the e-libraries. She made caparison between the electronic and traditional research, praising king Abdullah's e-library in UM ALQura University and KSU e-library, they considered the most important e-libraries on the level of KSA universities, as they provide important and developed knowledge bases in the field of education.
It's worth mentioning that the cultural symposiums continued until Tuesday April 28, 2015 and signing books until May 3, 2015.
Related News