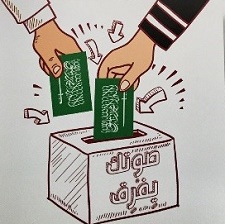 KSU Female Campus hosted the awareness campaign (your vote make difference), which organized by the Female Renaissance Institution cooperation with King Khalid Charitable Foundation. Where they set up number of booths to give important information about the Municipal Elections.
This awareness campaign conducted in the light of development that the Saudi woman witness, where she has the right to vote and to contest as candidate in the municipal elections.
Vice Rector for Female Students Affairs Einas Al-Eisa expressed her pride in this important step, where she said "The municipal election consider turning point where the women will participate as candidate and voter". Dr. Al-Eisa emphasized the women's efficiency and capability in all fields. Also she said "KSU is proud to be the oldest and largest higher education edifice for Saudi women"
Ibthal Al-Zaml the director of finance resources and public relations at the Renaissance institution, expressed her deep gratitude for KSU Female Campus' effective contribute to the awareness of this important event. Due to set the age of voters 18 years, the female Renaissance institution targeted universities such as KSU and PNU.
Moreover, the awareness booths received large number of attendees. Miznah Alnufai from the unit of development initiatives in the development deanship, said "This campaign seeks to improve the level of election skills among the community members, also it seeks to illustrate the criteria of female and male candidates and the duties of municipal councils toward the community"